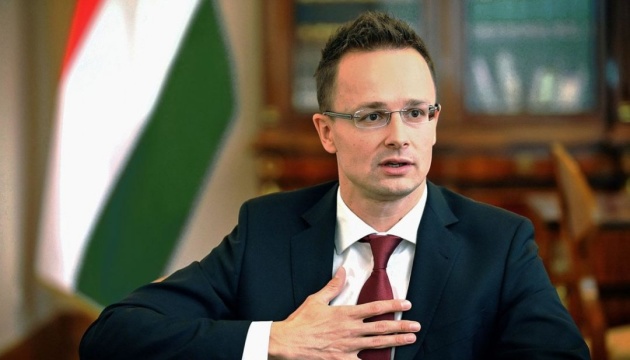 Hungary accuses Ukraine of restricting language use
Hungarian Foreign Minister Peter Szijjarto has said that Ukraine is abusing the right of national minorities to use their native languages.
He stated this on the Hungarian M1 television channel, according to the website of the Hungarian government.
"Instead of mitigating the conflicts, Ukraine has made further proposals for the restriction of language use and citizenship. For instance, it will be compulsory to display a Ukrainian transcript of the dialogue during theater productions and Hungarian newspapers will also have to be published in two languages," Szijjarto said.
The minister also announced a further negative reaction to Ukrainian language initiatives.
"The Hungarian Government will be making a stand against the latest measures with the same tenacity as it did against the Education Act," Szijjarto said.
The Depo.Zakarpattia media outlet suggests that the issue concerns bill No. 5556 about languages in Ukraine, which was registered on December 19, 2016 by Yaroslav Lesiuk, Ihor Vasiunyk, Oksana Yurynets, Oksana Bilozir, Oleksandr Chernenko and others, bill No. 5669 on the functioning of Ukrainian as the state language and the mechanism for application of other languages in Ukraine, and bill No. 5670 about the state language.
As reported, Ukraine's law on education came into force on September 28. The provision of the law on the language of instruction was criticized in some circles in Ukraine and abroad, mainly in Hungary.
On September 28, 2017, Ukrainian Foreign Minister Pavlo Klimkin submitted the education law for consideration by the Venice Commission.
On December 8, the Venice Commission issued an opinion on the language of instruction article of the education law. In particular, the commission recommends "to amend the relevant transitional provisions of the Education Law to provide more time for a gradual reform; to exempt private schools from the new language requirements in accordance with Article 13 of the Framework Convention; to enter, within the framework of the implementation of the new Education Law, into a new dialogue with representatives of national minorities and all interested parties on the language of education; and to ensure that the implementation of the Law does not endanger the preservation of the minorities' cultural heritage and the continuity of minority language education in traditional schools."
The Venice Commission's opinion does not oblige Ukraine to amend the language article of the education law.
op