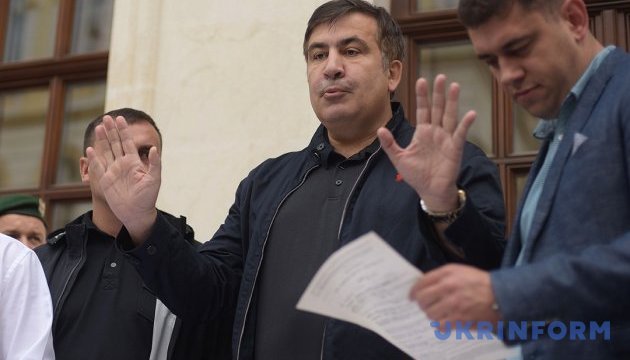 Law enforcers detain ex-Georgian president Saakashvili
Former Georgian president and former Odesa regional governor, who heads the Movement of New Forces party, Mikheil Saakashvili, has been detained in Kyiv.
Law enforcers drove Saakashvili out of the entrance of the building on Kostiolna Street and put him in a minibus, an Ukrinform correspondent reports.
The movement of the minibus along Kostiolna Street to Triokhsviatytelska Street is ensured by law enforcement officers, pushing aside Saakashvili's supporters. Those, in turn, take garbage tanks to the road, preventing the vehicle from driving.
At the same time, they are shouting "Shame" and urge to turn over cars parked on Kostiolna Street.
Clashes constantly erupt between law enforcers and activists.
Early on Tuesday, law enforcement officers searched Saakashvili's apartment on Kostiolna Street in Kyiv.
According to Saakashvili's lawyer, Markiyan Halabala, his client is charged with facilitating the activities of a criminal group.
op