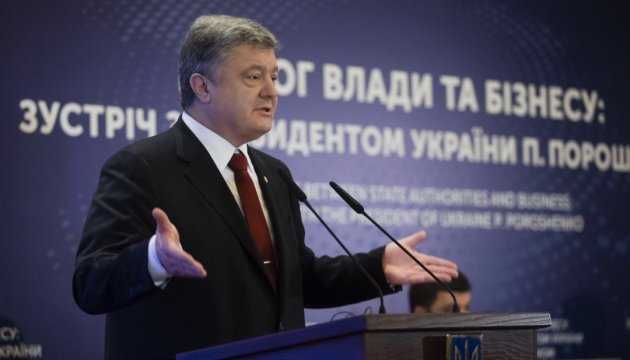 Pressure on media is unacceptable - Poroshenko
Any pressure on media outlets, especially by blocking their work, is unacceptable, President Petro Poroshenko has reported on his Facebook page.
At the same time, he said, any attempts to justify the actions of an aggressor country are unacceptable.
"Any pressure on the media, especially by blocking them, is unacceptable. However, it is also unacceptable to try to justify the actions of an aggressor country against Ukraine and play up to Russian propaganda, including in such matters as the assessment of the Revolution of Dignity," Poroshenko wrote.
He added that sometimes such actions are a reaction to the inactivity of those bodies that must react promptly. "The National Council on Television and Radio Broadcasting should more effectively regulate the media space," Poroshenko said.
The NewsOne television channel announced on December 3 that unidentified individuals in military uniforms had blocked the entrance to the building of the channel. The entrance was blocked by barbed wire, and a truck with bags of unknown content arrived.
MP Yevhen Murayev, who owns the channel, said that the head of the Bratstvo (Brotherhood) Party, Dmytro Korchynsky, was responsible for blocking the work of the channel.
Korchynsky himself confirmed this on Facebook and announced the demands of those who blocked the channel. According to him, they demand an apology from Murayev, who called the Revolution of Dignity a "coup d'etat."
Kyiv police have not opened a criminal investigation into the blocking of the NewsOne channel.
op