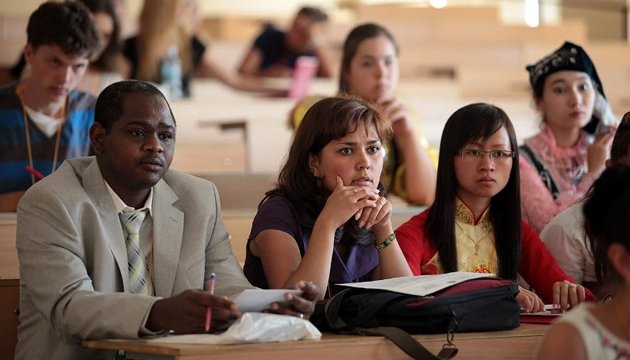 Education and Science Ministry suggests changing financing scheme for universities
The Ministry of Education and Science puts forth for public discussion its new concept of financing university-level (higher) education. This new scheme envisages to move away from the so-called "state order" on the numbers of specialists ("specialties"), and to make universities self-financed.
Ms Inna Sovsun, Deputy Minister of Education and Science, presented the new concept to mass media on Monday, according to an Ukrinform reporter.
"We suggest to break away from the notion of state order and to move to the notion of state financing of higher (university-level) education. The main idea is to redistribute funds among universities," Ms Sovsun said.
According to the Deputy Minister, this mechanism will stipulate stringent criteria. First, each university will definitely get 80% of the previous year financing volume. According to the concept, this share is calculated as the share of budget expenditures for a current year as a separate budget entry. The remainder 20% is expected to be financed according to a number of criteria, inter alia: the number of students with the highest Independent External Assessment (IEA) grades choosing a particular university and enrolled to financing-from-the-budget study program; the scope of scientific research at the university; quality levels of scientific publications; numbers of employed graduates; and shares of funds that universities attract to conduct their own research.
"Experience in many countries suggests that to incentivize universities to attract additional funding the following scheme is applied: each Euro that a university manages to attract brings in one Euro of state funding. This is a stimulating experience for universities," Ms Sovsun adds.
Moreover, it is planned to set up a social fund to pay scholarships.
"We aim at separating the funding to run universities from the funding to pay scholarships. The latter must be moved to a separate fund. These mentioned funding objectives must be two separate budget entries, so that we have a clear idea how much money we disburse," concluded the official.
The said fund will include separate expenditures for both academic and social scholarships, social assistance to certain categories of students, expenditures to extend privileged state credits (loans) for housing, social and everyday expenditures, and funding to operate student hostels.
The Ministry of Education and Science also suggests setting up a separate fund for higher (university-level) education development. According to Ms Sovsun information, money from this development fund will go to capital investment
or university development projects.
Furthermore, state funding may be received by private universities as well provided such universities are chosen for studying by students with the highest IEA grades.