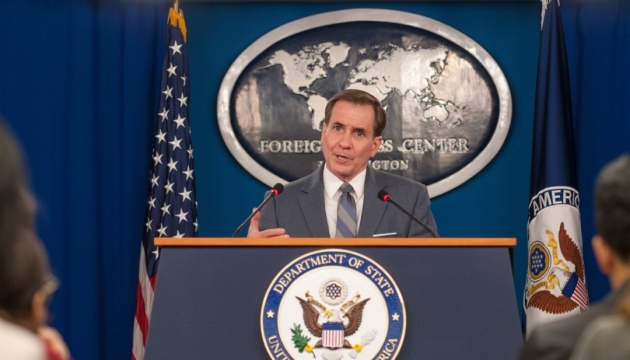 U.S. still has funds to support Ukraine, but new package needed from Congress - Kirby
The United States currently has the funding to ensure continuous military support for Ukraine "for a bit longer," but congressional approval of a new large-scale package is needed now.
John Kirby, coordinator for strategic communications at the National Security Council, said this during a press briefing in Washington on Tuesday, according to an Ukrinform correspondent.
"We have enough funding authorities to meet for Ukraine's battlefield needs for a bit longer. But we need Congress to act to ensure that there is no disruption in our support," he said.
Asked to clarify what he meant by "a bit longer," Kirby said that given what was left in the U.S. and the intensity of the aid allocation, it was perhaps "a couple of months or so." However, according to him, this depends on "what's going on the battlefield, how big the packages are, and what capabilities Ukraine needs."
At the same time, Kirby said, this is imperative to help the Ukrainians take advantage of every single day of this war as they continue to wage a tough counteroffensive and as the winter fast approaches.
Kirby noted that this issue was also discussed during President Joe Biden's call with allies and partners on Tuesday.
"The leaders discussed efforts to continue providing Ukraine with ammunition and weapons systems that it needs to defend its territory and to continue strengthening Ukrainian air defenses as they prepare for more attacks on critical infrastructure now certainly, but also certainly in the winter months ahead," he said.
He added that they also talked about repairing and hardening Ukraine's energy infrastructure throughout the winter and spent some time discussing ways that they can align and broaden donor efforts to support Ukraine's economic recovery. They also discussed efforts to address energy, economic and food security challenges caused by Russia's war.
On October 3, U.S. President Joe Biden spoke by phone on further support for Ukraine with the leaders of Canada, Germany, Italy, Japan, Poland, Romania, the United Kingdom, France, as well as the European Commission, the European Union and NATO.