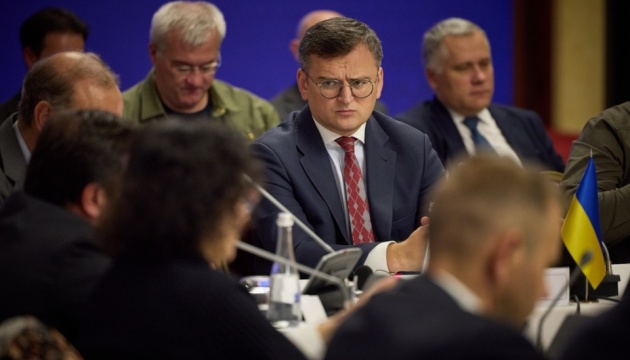 Ukraine expects transparent assessment of implementation of seven EC recommendations without additional requirements - Kuleba
In October, Ukraine expects the European Commission to make an honest and transparent assessment of the implementation of seven recommendations for the beginning of negotiations on the country's accession to the EU, without additional requirements.
Ukrainian Foreign Minister Dmytro Kuleba said this at a joint press conference with EU High Representative for Foreign Affairs and Security Policy Josep Borrell following a meeting of the EU Foreign Affairs Council in Kyiv on Monday, October 2, according to an Ukrinform correspondent.
Kuleba noted that one of the topics of today's meeting was Ukraine's EU membership. According to him, there was a consensus on this issue, and it is only a matter of time. He also said that both Ukraine and the EU are determined to move forward "with maximum speed, taking into account all the reforms that Ukraine has carried out, is carrying out and will carry out."
"Today, our key signal in this regard is that we will implement the seven recommendations that were announced by the European Commission to launch membership negotiations. We expect them to be evaluated honestly and transparently, without any additional requirements. The atmosphere at this meeting shows that we have mutual understanding with the EU on this issue," Kuleba said.
He added that Ukraine also expects the European side to adopt a decision on the beginning of negotiations on Ukraine's joining the EU by the end of the year.
In early August, the European Commission started preparing a report on enlargement, in which it should express a recommendation regarding the negotiations on Ukraine's accession to the EU. It is expected to be released in the second half of October.
Ukrainian President Volodymyr Zelensky is waiting for the EU decision regarding the start of negotiations on Ukraine's membership in the EU in 2023.