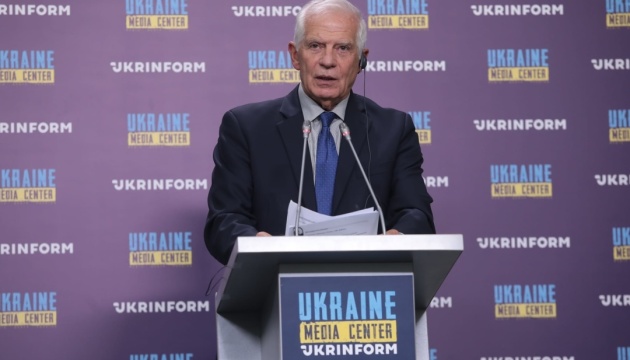 Russia's war against Ukraine an existential threat to Europeans - Borrell
The EU will always support Ukraine, because Russian aggression is an existential threat to Europe and Europeans.
EU High Representative for Foreign Affairs and Security Policy Josep Borrell said this at a joint press conference with Ukrainian Foreign Minister Dmytro Kuleba in Kyiv on Monday, October 2, according to an Ukrinform correspondent.
We are convening a historic meeting of EU Foreign Ministers here in Ukraine, candidate country and future member of the EU.

We are here to express our solidarity and support to the Ukrainian people.https://t.co/zcv6agCcIy

— Josep Borrell Fontelles (@JosepBorrellF) October 2, 2023
The EU foreign policy chief was asked to comment on the EU's reaction to the non-inclusion of a Ukraine aid package in the U.S. budget, which will be valid until November 17 if the budget for the next year is not adopted.
"It is about stability and predictability in the world. This war is having deep consequences for the whole world, but for us Europeans it is an existential threat. Maybe it's not seen like this for everyone in the world, but for us Europeans, allow me to repeat it, it's an existential threat. And that's why we have to continue supporting you and discuss with our American allies and friends [that it is important] for them too to continue supporting you. I am sure that this decision will be reconsidered, and all together we will be on your side," Borrell said.
At the same time, he declined to comment on the possibility of holding elections in Ukraine, saying that the consideration of such an issue is not his business, since the main responsibility of the EU High Representative is the foreign policy of the European Union, rather than the internal policy of individual countries.
A visiting meeting of the EU Foreign Affairs Council is being held in Kyiv today, chaired by EU High Representative Josep Borrell.