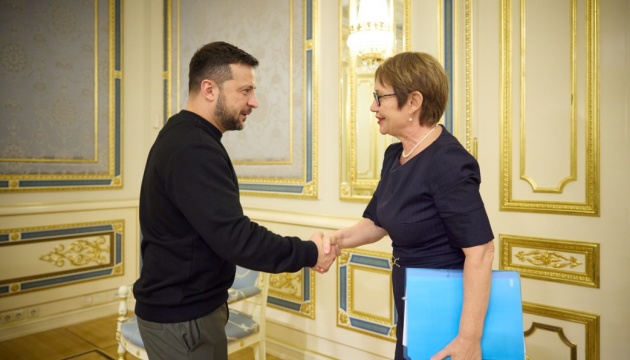 Ukraine's Zelensky meets with EBRD president
Ukrainian President Volodymyr Zelensky has met with President of the European Bank for Reconstruction and Development (EBRD) Odile Renaud-Basso who is visiting Ukraine.
That's according to the press service of the head of state, Ukrinform reports.
Zelensky thanked the EBRD for their unwavering and steadfast support of Ukraine in countering the full-scale Russian invasion and for financing development projects in the country.
Zelensky said that even during wartime, investments are coming into Ukraine, but for the recovery and stable economic development, the volume of these investments should be significantly larger.
"If we have a reliable air defense system and jobs, people will return to Ukraine even now, while the war is ongoing. Our country will not only fight for its freedom but will also continue to live," he said.
According to him, Ukraine is interested in continuing cooperation with the EBRD, particularly in the areas of energy security, trade financing, support for critical infrastructure and municipalities, food security, the corporate sector, and more.
In addition, Zelenskyi emphasized the need to strengthen the financing of projects in the private sector, as well as to attract additional private capital to restore the country.
Furthermore, the head of state emphasized the need to increase funding for private sector projects and to attract additional private capital for the country's reconstruction.
Renaud-Basso, in turn, said that Ukraine's economy had stabilized and continued to operate in a significant part of the country's territory.
She also mentioned discussions with the Ukrainian government and the prime minister regarding preparations for the winter period.
"We will continue to support Ukrenergo in building air defense. We are also working with Naftogaz to ensure large gas reserves. In addition, we have a project with Ukrhydroenergo. And we will continue to finance Ukrzaliznytsia and transportation," Renaud-Basso said.
According to her, the bank intends to focus on projects in the private sector, including increasing production capacity in agriculture. The EBRD also collaborates with banks in financing small- and medium-sized businesses, including risk insurance.
Renaud-Basso said that the EBRD is working on increasing its authorized capital, which will enable additional funding for Ukraine's reconstruction.
Photo credit: Office of the President of Ukraine