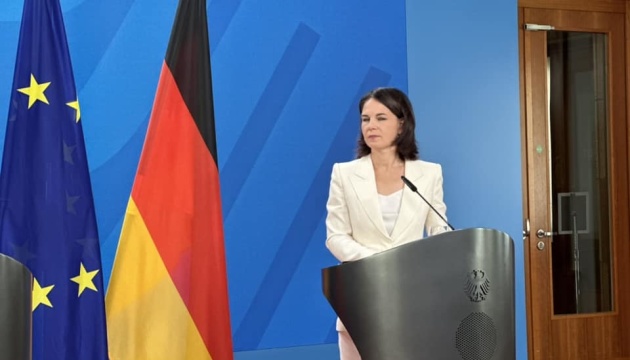 Baerbock: No fatigue in Germany from Ukraine war
The attitude of countries around the world towards Russia's war against Ukraine has changed significantly, as they understand that this war concerns not only peace in Europe, but also the very principles of the UN Charter, according to German Foreign Minister Annalena Baerbock.
She said this in an interview with CNN, Ukrinform reports.
In the first weeks of the Russian invasion, many countries did not understand what was going on, she said.
"But this has definitely changed. So I feel way more support because many, many countries around the world see that this is not only about Ukraine, this is not only about peace in Europe, it's about our Charter of the United Nations. If we allow one dictator to overrule all of our peaceful rights, that will be the end of peaceful cooperation in the world," Baerbock said.
According to her, there is no Ukraine war fatigue in her country.
From the beginning, the vast majority of Germans and Europeans totally understood that "this could be us." Ukraine is seen as part of Europe, since it takes three hours to fly from Kyiv to Berlin by plane, she added.
"So the vast majority of people know that we have to stand with Ukraine, because Ukraine is also defending our peace, our liberty," Baerbock said, noting that Germany was dependent on Russian energy resources and felt the economic consequences of the war.
At the same time, in her opinion, the task of the political leadership is to explain to people why they need to support Ukraine and why it is necessary to introduce social programs to counter the negative consequences.
The minister also stressed the need for radical reform of the UN.
"The whole General Assembly shows that the world has changed in the last decades, but the institutions of the UN haven't changed. And therefore, we need a total modernization," Baerbock said.
According to her, Africa and Latin America are not even represented at the UN Security Council.