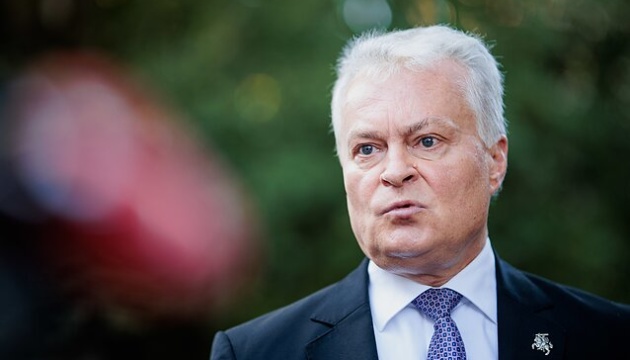 Lithuania's Nauseda meets Ukranian lawmakers, vows political support
At a meeting with Ukrainian legislators visiting Lithuania, the country's president, Gitanas Nauseda, promised to promote political support for Ukraine, and also called for efforts to implement reforms in order to launch EU membership talks.
This is reported by Ukrinform with reference to LRT.
"Ukraine must get what it needs on the battlefield. The victory of Ukraine should be the strategic goal of the West, otherwise Russia's threats to our region and the countries of the "Eastern Neighborhood" will become even more serious," Nauseda said at a meeting with the Verkhovna Rada delegation, according to a report posted in Ukrainian.
He emphasized that the politicians' task is to rally the international community around the idea of political support for Ukraine, and assured that Lithuania consistently calls on its allies to increase and speed up military assistance to Kyiv.
Nauseda also noted that Ukraine's place is in the European Union and NATO, therefore it is important for the country to take advantage of the window of opportunity that has opened so that a positive decision on the start of negotiations on joining the EU is made by year-end. The leader of Lithuania noted that a necessary condition to this end is the implementation of the reforms specified in the European Commission's conclusion on Ukraine's EU membership application.
The delegation of Ukrainian lawmakers, which arrived in Lithuania on Monday, also met with the Speaker of the Lithuanian Parliament, Viktorija Čmilytė-Nielsen. More meetings with Lithuanian officials are scheduled, as well as a trip to Druskininkai, home to a rehabilitation center where Ukrainian soldiers are undergoing treatment.
The Verkhovna Rada delegation will be in Lithuania until Thursday.
As Ukrinform reported last week, Lithuanian President Gitanas Nauseda, speaking at the 78th session of the UN General Assembly in New York, said Russia is blackmailing the whole world with a blockade of Ukrainian grain exports. In this way, the Russian Federation put 82 countries, or 350 million of the world's population, in a challenging position. Accordingly, Nauseda, believes, it is necessary to open a larger number of Solidarity Lanes to help Ukraine ship its grain to the world markets.
Photo: E. Blaževič / LRT nuotr.