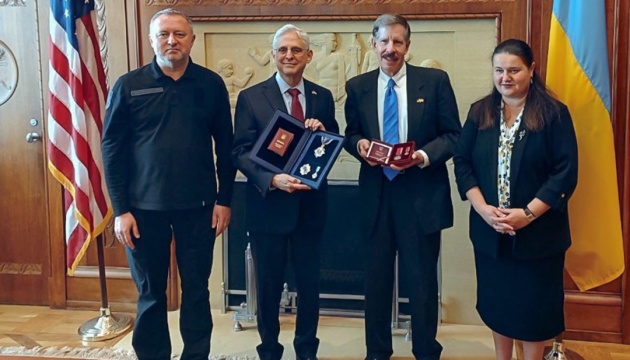 Kostin presents US Attorney General with Ukrainian Order
Prosecutor General of Ukraine Andriy Kostin presented US Attorney General Merrick Garland with a state award on behalf of President Volodymyr Zelensky.
"During the visit to the USA, on behalf of the President of Ukraine, Kostin presented Garland with the Order of Prince Yaroslav the Wise, II degree. Eli Rosenbaum, who heads the war crimes investigation group, and US Deputy Assistant Attorney General Bruce Swartz were presented with the Orders of Merit, III degree," the Prosecutor General's Office posted on Telegram.
<script async src="https://telegram.org/js/telegram-widget.js?22" data-telegram-post="pgo_gov_ua/16970" data-width="100%"></script>
Kostin stressed that the Ukrainian people, the President, and the Government of Ukraine highly appreciated the constant support from Garland and the team of the US Department of Justice on the way to restoring justice.
The meeting participants discussed the details of cooperation, new potential directions and interaction in priority proceedings.
"We are grateful for the organization of training programs for Ukrainian prosecutors and experts by the US Department of Justice, in particular, regarding the documentation of war crimes against the environment and the introduction of modern person-centered approaches in working with victims and witnesses," Kostin emphasized.
Garland, in turn, pledged further support: "The US Department of Justice and the Ukrainian Prosecutor General's Office are united in their determination that the Russian perpetrators of aggression, war crimes and crimes against humanity committed in Ukraine will not escape responsibility."
Another pressing issue on the agenda is the release of Ukrainian civilians illegally detained by Russia, Kostin emphasized.
"Despite the scale of these crimes, they have remained practically out of the attention of the international community. Our goal is to draw attention to these facts and initiate joint steps to free and return these people. We would be very grateful to the US Department of Justice for supporting these efforts," he said.
Kostin and Garland underscored that they are determined to continue working together for the sake of restoring justice for Ukraine and the entire free world.