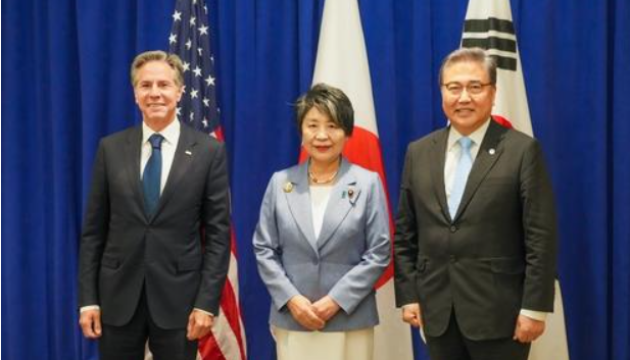 South Korea, US, Japan warn of stern response to Russia-North Korea arms deal
The foreign ministers of South Korea, the United States, and Japan are deeply concerned about military cooperation between Russia and North Korea and have declared their readiness to take tough measures against a potantial arms deal.
This is reported by Yonhap with reference to the South Korean Ministry of Foreign Affairs, Ukrinform saw.
According to the agency, Minister Park Jin and his American and Japanese counterparts Antony Blinken and Yoko Kamikawa discussed Russian-North Korean arms deals in New York on the sidelines of the UN General Assembly session.
Top diplomats expressed deep concern about military cooperation between the two countries and warned that a potential arms deal between Pyongyang and Moscow would be a violation of UN Security Council resolutions Russia had also supported.
The report states that the ministers pledged to cooperate with the international community to deal sternly with any threats to regional security that violate UN Security Council resolutions.
During last week's trip to the Russian Far East, Kim Jong Un met with Russian President Vladimir Putin and discussed deepening military cooperation with Russian Defense Minister Sergei Shoigu.
Earlier, The New York Times, citing sources, reported that Putin seeks to receive artillery rounds and anti-tank missiles from the DPRK for the war against Ukraine, while Kim want to get from Russia some advanced technologies for satellites and nuclear submarines. In addition, Kim is seeking food aid for his country. The White House said Shoigu's visit to Pyongyang in July included discussions of the arms deal.
Both Moscow and Pyongyang deny any arms sales agreements have been reached.
As Ukrinform reported, after returning from a trip to the Russian Far East, North Korean leader Kim Jong Un held a meeting of the Politburo of the Central Committee of the Labor Party, the highest governing body of the DPRK, and ordered to "deepen relations with Russia."