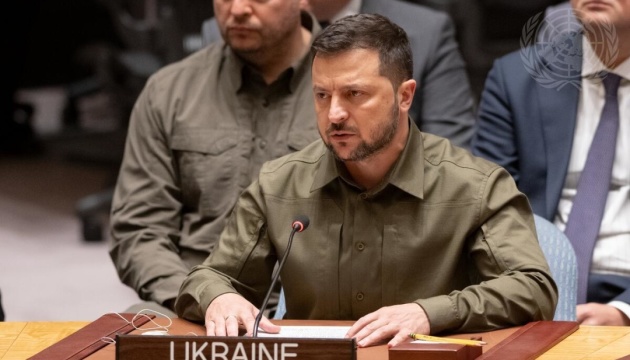 Zelensky: Use of veto power could be key reform in UN work
The use of veto power is what requires reform, and this could be a key reform, something that restores the strength of the UN Charter.
Ukrainian President Volodymyr Zelensky said this in his remarks at a special UN Security Council session in New York on Wednesday, September 20, Ukrinform reports.
"I regret that so far the UN Security Council is just the most visible platform in the world. I believe that the UN is capable of more. I am confident that the UN Charter can actually work for global peace and security. However, for this to happen, the years-long discussions of projects for UN reform must be translated into a viable process of UN reform. And it should not be only about representation here, in the Security Council. The use of veto power – that is what requires reform, and this can be a key reform. This can be what restores the power of the UN Charter," Zelensky said.
He said that the absolute majority of people in the world aspire to live in a world free of aggression. "In contrast to all of us, there are only a few obsessed individuals in Moscow. Veto should not serve as a weapon for those who are obsessed with hatred and war," Zelensky said.
"What we observe in the United Nations is an increasing support for the idea that in cases of mass atrocities veto power should be voluntarily suspended. But we also observe that Russia will not give up this stolen privilege voluntarily," Zelensky said.
According to him, that is why the UN General Assembly should be given a real power to overcome the veto.
Zelensky noted that if it is impossible to stop the war because all efforts are vetoed by the aggressor or those who condone the aggressor, it is necessary to bring this issue to the attention of the General Assembly.
"In the event of two-thirds of the votes reflecting the will of nations from Asia, Africa, Europe, both Americas, and the Pacific region – a global qualified majority – the veto should be effectively overcome, and such resolution of the General Assembly must be legally binding for all Member States," he added.
Photo: Office of the President of Ukraine