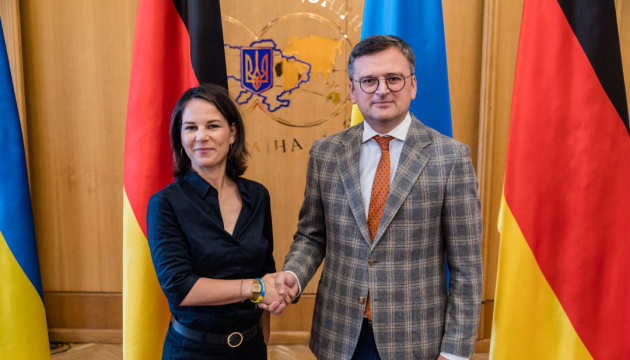 Kuleba following talks with Baerbock: issue of Taurus missiles for Ukraine "moving forward"
The Minister for Foreign Affairs of Ukraine, Dmytro Kuleba, held talks with his German counterpart, Annalena Baerbock, on the development of bilateral relations, the expansion of the coalition in support of the Peace Formula, new ways to export grain, and the provision of additional weapons, in particular, the strengthening of air defense capabilities and the transfer of long-range Taurus missiles.
This was reported by the Ministry of Foreign Affairs of Ukraine following the meeting, Ukrinform reports.
"We discussed in detail the provision of Germany's long-range Taurus missiles to Ukraine. Today, we better understand the specifics of the process of a final decision-making by the German government. For its part, Ukraine is ready to do everything necessary to speed it up. Following the negotiations, I can say that the option of providing these missiles remains open, and the decision-making process in Germany is moving forward," he said.
Kuleba expressed gratitude to the German side for the powerful defense support that the German government provides to Ukraine, in particular, in the creation of an air shield and the strengthening of the army's panzer might. He especially noted the effectiveness of the German Gepard anti-aircraft systems, which performed exceptionally in protecting Ukrainian settlements from Russian terror and saving many lives.
The minister emphasized that the parties had discussed additional strengthening of Ukraine's air defense capabilities on the eve of the upcoming winter season and expected Russian attacks on the country's energy system.
The parties also discussed promotion of the export of Ukrainian grain, preparation for the International Summit on Food Security and the humanitarian program of President Zelensky, "Grain from Ukraine", as well as support by the German side of Ukraine on the path to Ukraine's accession to the EU.
"We also discussed in detail the participation of Germany and German companies in the first Forum of Defense Industries, which will be held in Ukraine soon. The German government and defense companies have expressed great interest in the event and will take an active part in it," Kuleba emphasized.
The ministers separately underlined the agreement to work together for the return of Ukrainian children abducted by Russia. Kuleba expressed personal gratitude to Baerbock for her efforts to get Ukrainian children back from Russian captivity.
The head of the Ministry of Foreign Affairs of Ukraine also announced that tomorrow, Ukraine and Germany will hold another round of political consultations at the level of deputy ministers, where the parties will discuss the entire range of topics on the bilateral agenda.
As reported, Baerbock arrived in Kyiv on Monday morning with an unannounced visit. This is already the fourth visit of the German foreign minister to Ukraine. She became the first member of the German government to visit Ukraine after the start of the full-scale war and has made the largest number of trips to date.