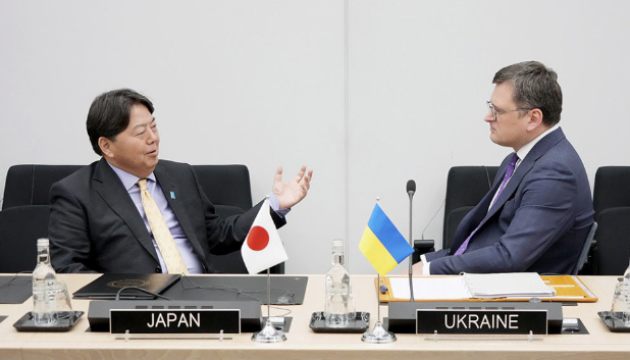 Japan's foreign minister makes unannounced visit to Ukraine
Japanese Foreign Minister Yoshimasa Hayashi is making an unannounced visit to Ukraine on Saturday in a show of support for Kyiv's defense against Russia's ongoing invasion.
That's according to Kyodo, which cites the Japanese government, Ukrinform reports.
It is the first Ukraine visit by the Japanese foreign minister since Moscow launched the war in February 2022.
All other Group of Seven member nations have sent their foreign ministers to Ukraine after the invasion, making Japan the last to do so.
Hayashi, who embarked on a trip to the Middle East and Poland last Sunday, will hold talks with Ukrainian Foreign Minister Dmytro Kuleba in Kyiv and tell him of Japan's plan to hold a conference to promote the economic reconstruction of Ukraine at the beginning of next year, the Foreign Ministry said.
Hayashi is also expected to attend a ceremony for the provision of Japanese crane trucks designed to remove unexploded bombs.
His trip comes after Prime Minister Fumio Kishida's surprise visit to Kyiv in March for talks with Ukrainian President Volodymyr Zelensky ahead of the G-7 summit in Hiroshima in May.
At the meeting with Zelensky, Kishida promised $470 million in grant aid for the energy sector and a $30 million contribution for the supply of nonlethal equipment through a NATO fund and invited him to virtually join in the Hiroshima gathering.
Zelensky attended the G-7 summit in the western Japan city in person on its closing day, with the leaders of the major democracies there vowing to support Ukraine "for as long as it takes in the face of Russia's illegal war of aggression."
Hayashi took the role of foreign minister in November 2021. Earlier this week, he toured Jordan, Egypt, Saudi Arabia and Poland to hold meetings with his counterparts and their leaders.
Illustration photo