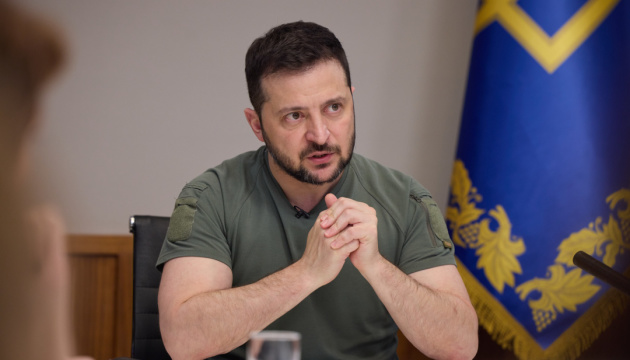 Italy's G7 presidency to provide strong solutions for global security - Zelensky
In an address to participants of Ambrosetti Forum held in Cernobbio, President Volodymyr Zelensky of Ukraine said he was positive that Italy's presidency in G7 will provide strong solutions for global security.
That's according to the Presidential press service, Ukrinform reports.
"Next year is the time of Italy's presidency in G7. And I have no doubt that this time will bring strong solutions not only for our common security, not only for our whole Europe, but also globally," said Zelensky.
He recalled an "important truth, namely, how important the power of a decision is. Both political and business. Real power."
"When you see what needs to be done. When you dare to act. And when you act in such a way that your leadership enables others to be more of a leader.
And when I say that, I'm talking about Italy in particular. Because not a single day when we cooperated with you, with your state, with your government, with Giorgia, with Italian companies, I had no doubt that the Italian decisions would be strong," said Zelensky.
He recalled that Italy supported Ukraine in defense, in particular with a very important air defense system, a powerful SAMP-T; supported Ukraine politically, in particular in the EU, supported Ukraine's candidate status, and supported Ukraine with security guarantees, in particular, by signing a declaration on Ukraine together with the entire G7.
"And we all see why and whom we oppose. Whom our and your strength has to deal with. On that side, beyond our front line, there is no strength, there is only meanness and stockpiles of weapons. Is there any strength in the fact that Russia fires missiles at peaceful cities? Or drops guided aerial bombs on schools?" Zelensky said.
According to the president, Russia is not demonstrating its strength by this: "Vice versa. These are the crimes of someone who fears that he has already lost everything. Who realizes this. But he does not admit it yet."
"Is there any strength in hitting a plane with your rival by a missile? And at the same time, be afraid to fly out of Russia's territory to any country. And travel around your country exclusively on an armored train. Although this is a regularity. Because if one terrorist kills another terrorist in such a state, there will be a third one," Zelensky noted.
He added that when the world looks at Russia after all this, "we see nothing but weakness."
And even now, the president said, when they are trying to add chaos to Africa, they are not showing their strength. Russian mercenaries in Africa are an attempt to distract the world from what today's Russia has become.
"Terror does not hide weakness – it only hurts. Strength does something completely different. Strength always removes chaos. It does not multiply it. Strength always defends its land, and does not grab someone else's. Strength is that you respect yourself, and you are really respected by others, you are respected by your people, you are respected by other nations. And they communicate with you because of this, because of this respect, and not because you have nuclear weapons," the head of state stressed.
"Strength – when it is real – does not bring war, but peace. Peace will be our result with you. Because we have strength," Zelensky emphasized.
As Ukrinform reported earlier, the head of the Italian Council of Ministers, Giorgia Meloni, emphasized in May that Italy would not call peace anything that resembles aggression, and that it will do everything possible to ensure that an unjust peace is not imposed on Ukraine.
Photo: President's Office