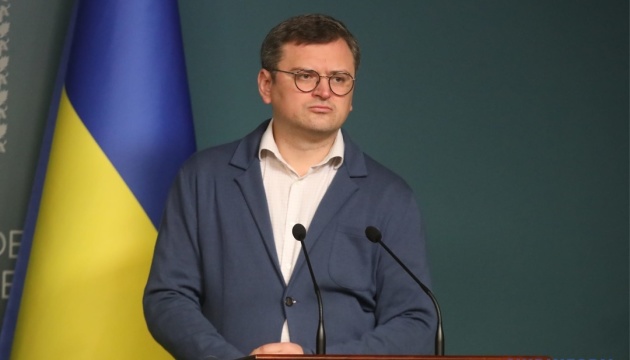 Kuleba responds to counteroffensive critics
The Minister for Foreign Affairs of Ukraine, Dmytro Kuleba, equated criticism of the pace of the counteroffensive to spitting in the face of Ukrainian soldiers.
The head of Ukrainian diplomacy stated this at a joint briefing with his Spanish counterpart Jose Manuel Albarez following the meeting in Toledo, Ukrinform reports.
Criticizing the slow pace of the counteroffensive is like spitting in the face of Ukrainian soldiers who sacrifice their lives every day, moving forward and liberating kilometer after kilometer of Ukrainian land, he said.
He went on to recommend any critic to come to Ukraine and try to liberate at least a square centimeter on their own.
The participants of the informal meeting of EU foreign ministers (Gymnich) together with Dmytro Kuleba discussed coordination for the involvement of countries in the Peace Formula, the Defense Industries Forum, the return of children abducted by Russia, and the export of Ukrainian grain.
It was agreed to coordinate steps and communication with the countries of Asia, Africa, and Latin America so that they support the Peace Formula put forward by President Volodymyr Zelensky, Kuleba explained.
He noted that EU member states and Ukraine will continue to strengthen the Grain from Ukraine facility as a way to transfer grain to African and Asian countries as humanitarian aid.
The head of the Ministry of Foreign Affairs of Ukraine also emphasized that defense manufacturers would meet in Kyiv to discuss expanding arms production not only for the Ukrainian Army to continue its counteroffensive, but also for the European armies to fill their warehouses and feel stronger.
Negotiations on the tribunal were agreed to continue, Kuleba said, noting that all parties demonstrated an interest in Russia being held accountable. The minister expressed his gratitude to his colleagues for showing interest in redoubling efforts to return Ukrainian children forcibly deported or abducted by Russia.
He noted that another issue on the agenda was the grain corridor. According to the minister, all participants in the meeting agreed on how the overland routes of grain export would be expanded.
As Ukrinform reported earlier, officials in the Pentagon noted that the current pace of the counteroffensive is due to the advance taking place in very difficult conditions. At the same time, the U.S. remains impressed by the Ukrainian Army's achievements.