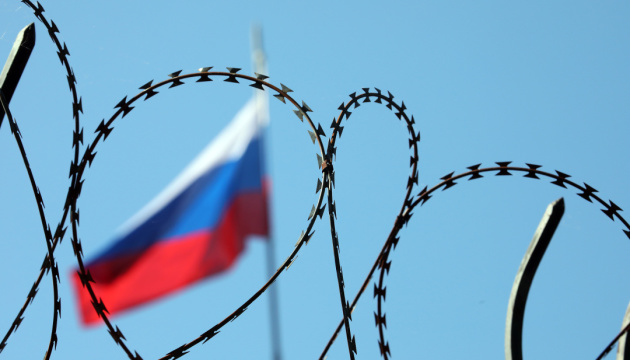 World's leading lawyers call for creation of international tribunal to hold Russian leaders accountable
Participants of the international conference "Special Tribunal for the Crime of Aggression against Ukraine. Justice must be served", which took place in Kyiv on 21 August, signed a joint communiqué calling for the creation of an international Tribunal to try top Russian political leaders for the crime of aggression.
This is reported by Ukrinform, referring to the Office of the President of Ukraine.
"We call on the international community to join forces and work closely and jointly with Ukraine to establish a Special Tribunal for the crime of aggression against Ukraine. The Special Tribunal should become a legitimate and authoritative mechanism of justice, which will be able to effectively carry out its work - to bring to justice representatives of the political and military leadership of the Russian Federation for the crime of aggression against Ukraine," the document says.
In particular, the conference participants believe that the creation of the Special Tribunal should be the international community's response to the blatant and gross violation by the Russian Federation of the UN Charter, namely the principle of non-use of force or threat of force.
"The establishment of the Special Tribunal will also play an important role in preventing possible future aggressions, as possible aggressors will see that acts of aggression receive an appropriate legal response. The crime of aggression committed by Russia's political and military leadership against Ukraine should not be left without an appropriate legal response. Therefore, we call on the international community to work actively and effectively to establish a Special Tribunal to ensure accountability for the crime of aggression against Ukraine," the communiqué reads.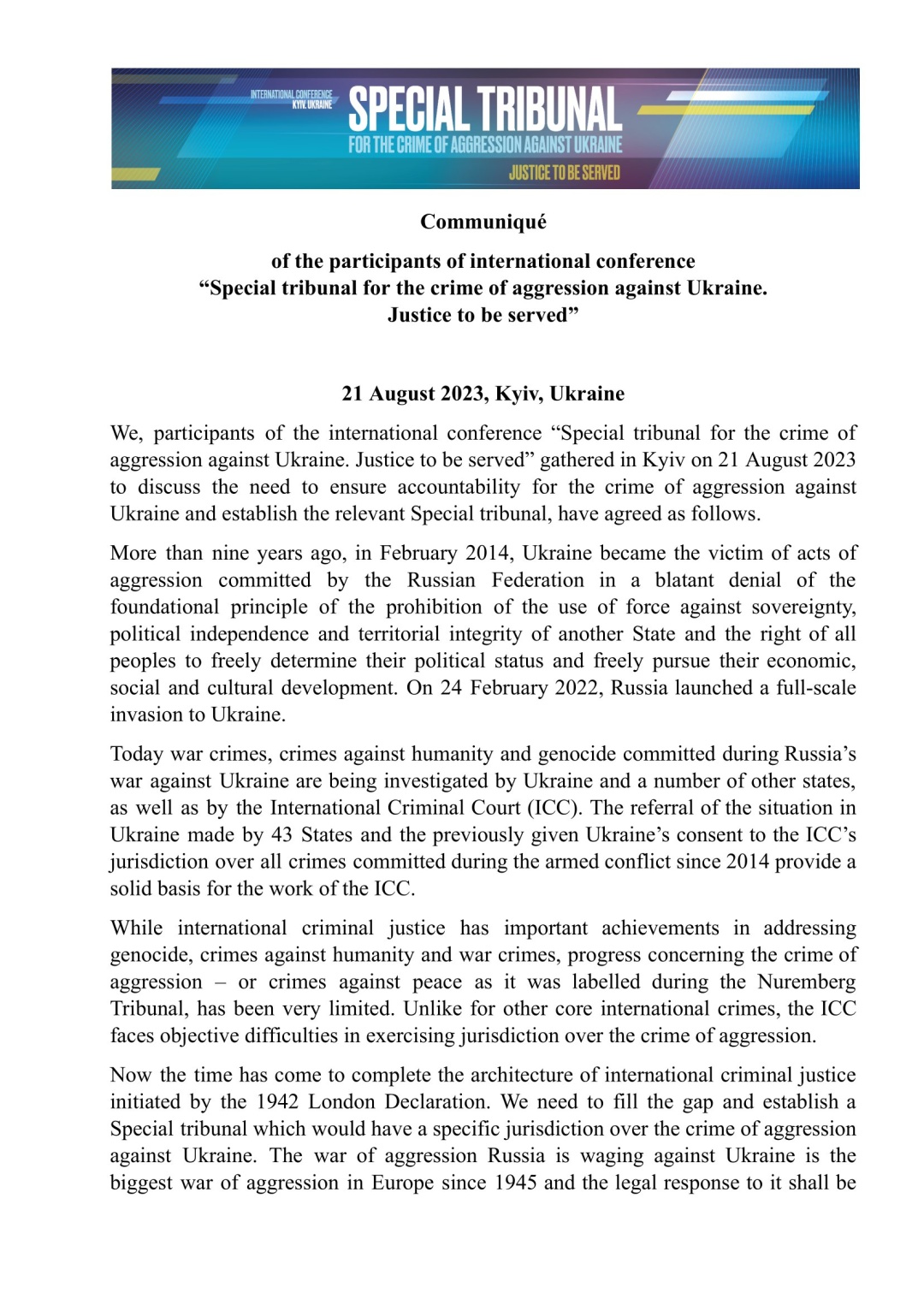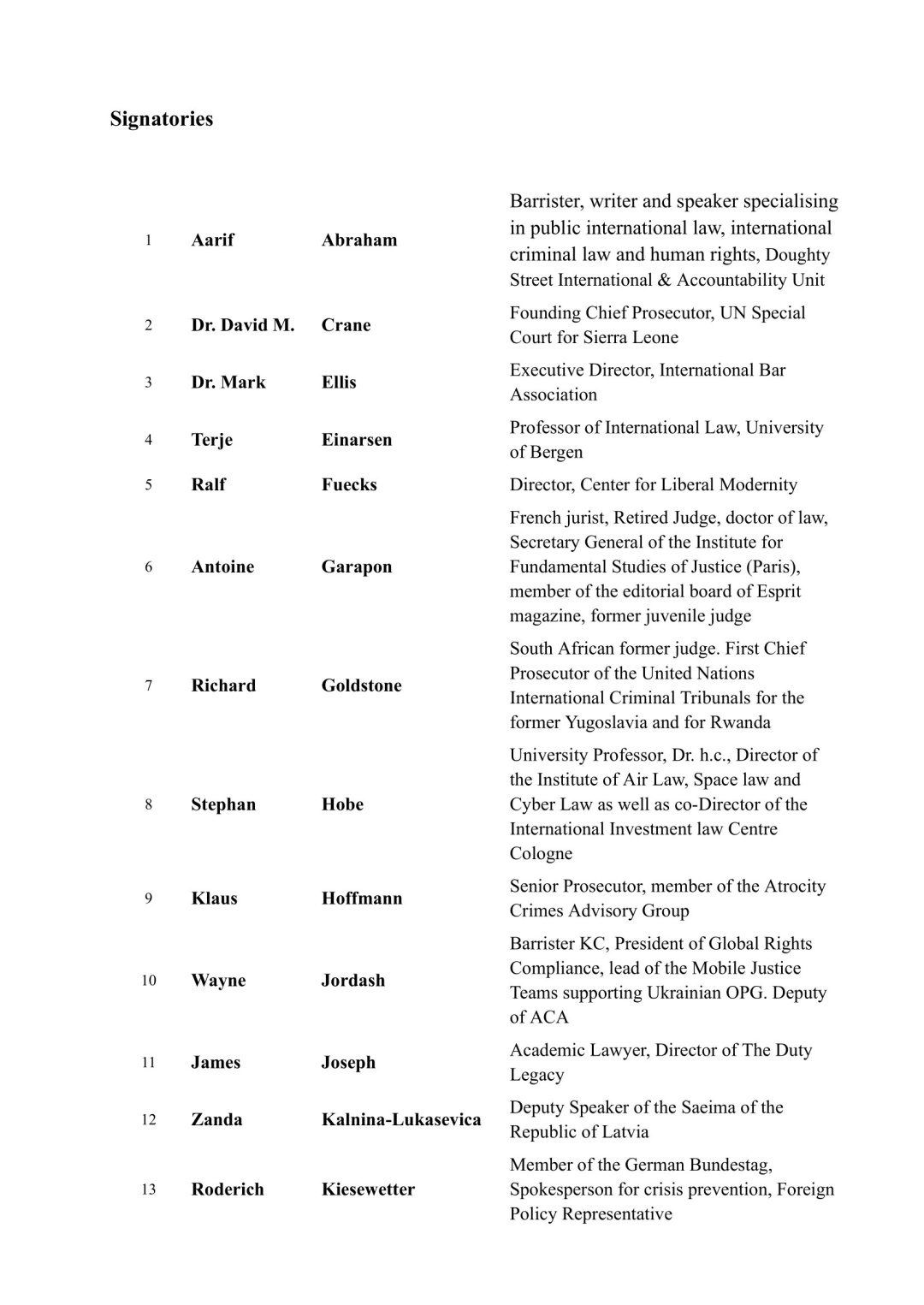 The document was signed by, among others:
• Richard Goldstone, South African former judge. First Chief Prosecutor of the United Nations International Criminal Tribunals for the former Yugoslavia and for Rwanda;
• David Crane, American lawyer, former Chief Prosecutor of the Special Court for Sierra Leone (SCSL);
• Mark S. Ellis, Executive Director of International Bar Association;
• Rein Tammsaar, Permanent Representative of the Republic of Estonia to the United Nations;
• Geoffrey Nice, British barrister. Lead prosecutor for the UN in trial of Slobodan Milošević's;
• Stephan Hobe, Professor, Director of the Institute of Air Law, Space law and Cyber Law as well as Co-Director of the International Investment Law Centre Cologne;
• Emanuelis Zingeris, Lithuanian MP, Head of Lithuanian delegation to PACE, Rapporteur of the PACE two resolutions and rapports of Russia's war of aggression against Ukraine, Vice president of European affaires Committee of Seimas;
• Roderich Kiesewetter, Member of the German Bundestag, Spokesperson for crisis prevention, Foreign Policy Representative;
• Zanda Kalniņa-Lukaševica, Latvian MP, part of a Committee of Foreign Affairs and a Committee of European Affairs. Head of Latvian delegation of the PACE;
• Terje Einarsen Professor of International Law, University of Bergen;
• Antoine Garapon, secretario general del Instituto de Altos Estudios sobre Justicia.