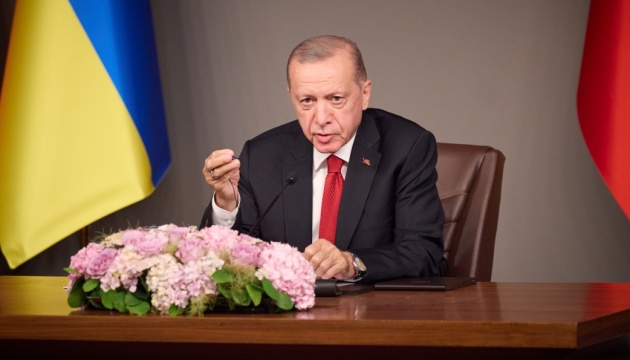 Erdogan: Ukraine deserves NATO membership
Turkey supports the sovereignty and territorial integrity of Ukraine, and the country deserves to be a NATO member.
Turkish President Recep Tayyip Erdogan said this after a meeting with Ukrainian President Volodymyr Zelensky in Istanbul, according to an Ukrinform correspondent.
"Ukraine deserves membership in NATO. And in your presence, I want to emphasize once again that no one will lose from the coming of a just peace. We will provide any support so that Ukraine gets back on its feet," Erdogan said, adding that Turkish construction companies are ready to participate in the rebuilding of Ukraine.
Video: Office of the President of Ukraine
Erdogan also added: "Since the annexation of Crimea, contrary to international law, to this day, we declare on all platforms our support for the territorial integrity, sovereignty and independence of Ukraine. And we demonstrated our solidarity with Ukraine in practice by providing concrete assistance in the political, economic, humanitarian and technical spheres. We have also become the country that is making the most efforts to end the war."
Erdogan also spoke in favor of extending the Black Sea Grain Initiative.
"On July 17, the validity period of this initiative expires, thanks to which about 33 million tonnes of grain were delivered to those who need it through the Turkish straits within one year. [...] I wish the continuation of this initiative. I am convinced that all interested parties will act for this purpose, being aware of global responsibility," he said.
He noted that Turkey remains ready to make efforts to establish a just peace in Ukraine.
When asked about the possible release of political prisoners and prisoners of war in Russia, Erdogan assured of continued efforts in this area, including dialogue with Russia, and announced the Russian president's visit to Turkey next week.
Photo: Office of the President of Ukraine