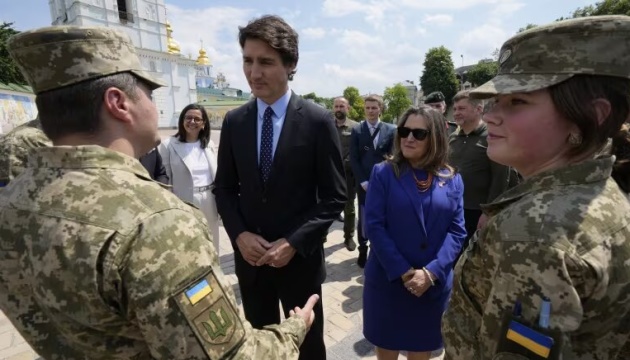 Canada's PM makes surprise visit to Kyiv
Canadian Prime Minister Justin Trudeau and Deputy Prime Minister Chrystia Freeland made a surprise visit to Kyiv on Saturday as President Volodymyr Zelensky's government struggled to assess the damage and mount further downstream evacuations following the destruction of the giant Nova Kakhovka dam.
That's according to CBC, Ukrinform reports.
Trudeau's trip to Ukraine was planned under a strict news blackout.
In Kyiv, Trudeau started his visit by attending a somber wreath-laying at the Wall of Remembrance, a unique, deeply personal collection of photos and inscriptions marking those who've fallen in the Russian-Ukrainian war.
Early on June 6, Russian troops blew up the dam of the Kakhovska hydroelectric power plant. The plant cannot be restored. In the Kherson region, rescue operations and evacuations from flooded areas are ongoing. The situation is particularly difficult in the temporarily occupied territories, where the invaders left people without any help.
Photo: Frank Gunn/The Canadian Press