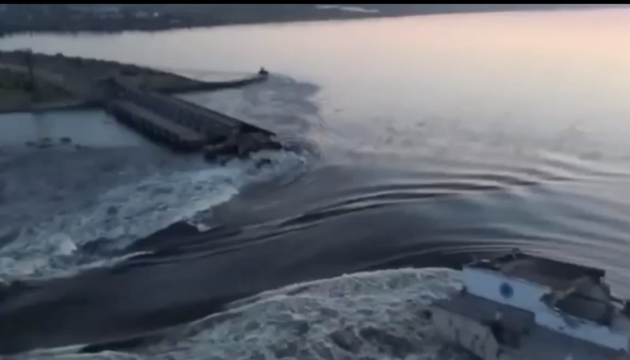 BSEC makes first war-related statement, reacting to Kakhovka HPP dam breach
For the first time since the outset of Russia's full-scale military invasion of Ukraine, the Black Sea Economic Cooperation Organization has officially reacted to the situation, expressing concern about the consequences of the Kakhovka HPP dam explosion.
Consul General of Ukraine in Istanbul Roman Nedilskyi reported this in a comment to Ukrinform.
"The BSEC always says that they are beyond politics, being only an economic organization, and that this is determined by the statutory documents. For our part, we constantly emphasized that no statement has been made since the full-scale invasion. I met several times with the Secretary General, as well as with the Serbian Presidency. And after Russia's act of terror at the Kakhovka HPP, I appealed again, as the consequences will be felt by all the countries of the Black Sea region," said Nedilskyi.
The Organization's statement said that the BSEC was particularly concerned about the serious damage to the Kakhovka dam on the Dnipro.
Such actions pose a serious threat to both people's lives and the environment, the statement said, noting that environmental protection in the Black Sea region was and remains a key goal of BSEC and its member states.
Nedilsky emphasized that Ukraine continues to undertake efforts to expel Russia from BSEC.
"We have a clear position and we will defend it in the future... Our task is that Russia ceases to be a member of the BSEC. It is very difficult to do this from a legal perspective because the statutory documents do not provide for a mechanism for expelling a country from the Organization, there is only a voluntary exit," the diplomat explained.
He recalled that Ukraine has been advocating Russia's expulsion from the BSEC since the outset of the large-scale invasion, trying to amend the Organization's charter to create a legal mechanism for such expulsion.
"Unfortunately, this is a consensual organization, and all decisions in it are made by the decisions of all member states. Therefore, the Russian delegation blocks all our steps. We are not looking for standard solutions and we will not get off this track, so we continue exploring the options," said Nedilskyi.
On June 8-9, a meeting of the committee of senior officials of BSEC is held in Istanbul. On June 13, a meeting of the Council of Ministers of Foreign Affairs of the BSEC will be held, where the chairmanship will be transferred from Serbia to Türkiye from July 1, 2023.
As reported, Russian troops blew up the Kakhovka HPP on the night of June 6. As a result of the detonation in the engine room from the inside, the plant was completely destroyed.
Evacuation of the population from areas at risk of flooding is underway.