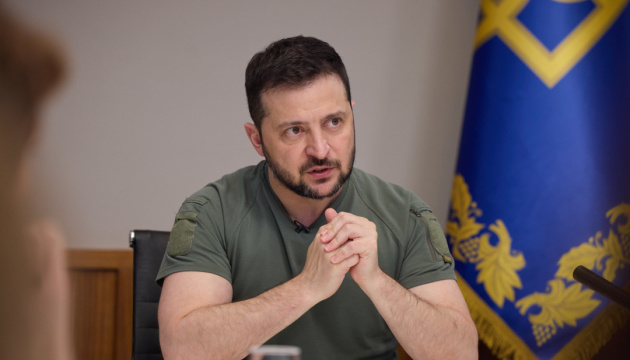 Zelensky says wants to meet Brazil's Lula: "We need to talk"
President Volodymyr Zelensky of Ukraine says he is interested in meeting with the President of Brazil, Luiz Inacio Lula da Silva.
The statement came in an interview with Latin American mass media, an Ukrinform correspondent reports.
"It is not the first time that I publicly - and not publicly, through someone, through the media and directly to President Lula – say, and I can once again confirm, that I'm interested in meeting with President Lula. I am interested to have that meeting. I offered any format. I invited the president several times, I invited him to visit Ukraine. We got in touch with President Lula's team when he had meetings in Spain and Portugal, when he was in Europe. I wanted to use that opportunity because the distance is shorter and I want him to find time. Then I had various meetings at the G7, and someone even claimed that we did not find (time to meet - ed.) ... this is nonsense. There's no point to listen to someone claiming such things – there can't be serious and they can't stick to the subject. I am interested in meeting President Lula. And I believe we need to talk," Zelensky said.
As the head of the Ukrainian state noted, he needs "as many countries as possible to support Ukraine or not to support Russia in this situation if they aren't ready to back Ukraine, unfortunately."
"It is very important for me that people understand all the details of what's happening. For me, it is very important that the big powers are involved. Brazil is a large state in Latin America – in terms of its actual size and strength. And (I want that – ed.) Brazil is also represented at the peace formula summit on par with other states. There may be different views on this or that security block, on this or that direction of the peace formula. We are in dialogue, we are civilized people, and we need to talk about it, and in order to have this talk, we need to be willing to do that. I have offered to meet with the president many times. I think he will find an opportunity. Something didn't work out at the G7... But it definitely wasn't on our side," Zelensky noted.
Earlier, Brazilian President Luiz Inacio Lula da Silva criticized Russia's invasion of Ukraine while saying he was trying to remain "neutral" to be able to mediate potential peace talks.