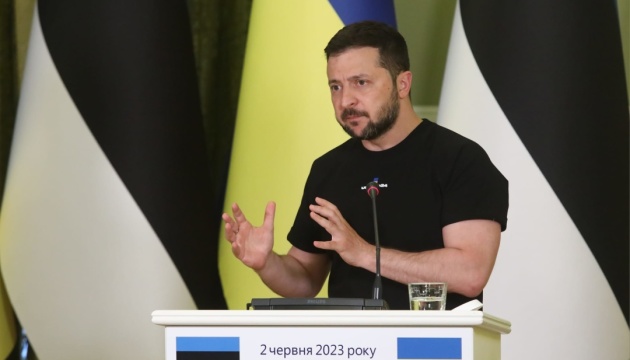 Ukraine will not to involve any NATO country in war - Zelensky
Ukraine is not going to involve any NATO member country in the war unleashed by Russia, so there will be no membership in the Alliance while this war continues.
President Volodymyr Zelensky stated this at a joint press conference with President of Estonia Alar Karis in Kyiv, an Ukrinform correspondent reports.
"We are adequate people, we understand that we will not drag any NATO country into war. Therefore, we understand that we will not be members of NATO while this war is ongoing. Not because we don't want to, because it's impossible," Zelensky said.
At the same time, he emphasized that Ukraine is not looking for alternatives to NATO membership, but needs security guarantees before the end of the current war.
"Today, when we are talking about security guarantees for Ukraine - these include sanctions, financial guarantees, weapons, etc., that are today not in documents, but in reality. If we want to have them on paper, then there should be clearly indicated or accompanied by something concrete that these security guarantees are valid until Ukraine receives the main security guarantees, namely membership in NATO," the President explained.
As Ukrinform reported, President Volodymyr Zelensky earlier stated that Ukraine is waiting for a political invitation to join the Alliance at the NATO summit in Vilnius. He also stressed that Ukraine should receive effective security guarantees even before joining NATO.