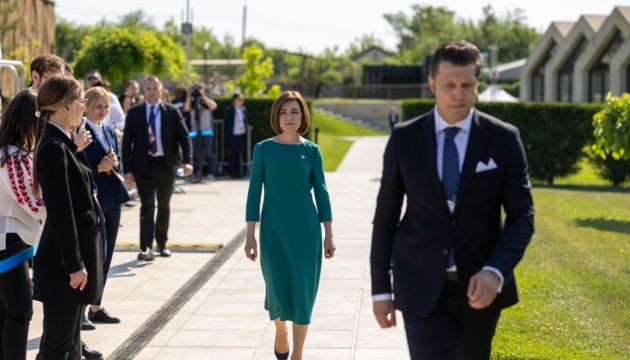 Moldova supports Zelensky's peace formula, creation of tribunal for Russia - Sandu
Moldovan President Maia Sandu said that Ukraine is currently ensuring the security of her country and stressed that Moldova supports the peace formula in the Ukrainian vision.
She said this before the start of the European Political Community summit in Chișinău, an Ukrinform correspondent reports.
"Ukraine ensures the security of Moldova today, and we are very grateful for this. Moldova respects the sovereignty, independence and territorial integrity of Ukraine and its internationally recognised borders. Moldova supports the formula for peace proposed by you, Mr President, and, of course, we support the initiative to establish a special international tribunal to try those who commit crimes of aggression in Ukraine," she said.
As Ukrinform reported earlier, the summit of the European Political Community will be held on 1-2 June in Moldova at Mimi Castle, 35 kilometres from Chisinau. It is attended by 47 presidents and prime ministers, as well as heads of European institutions.