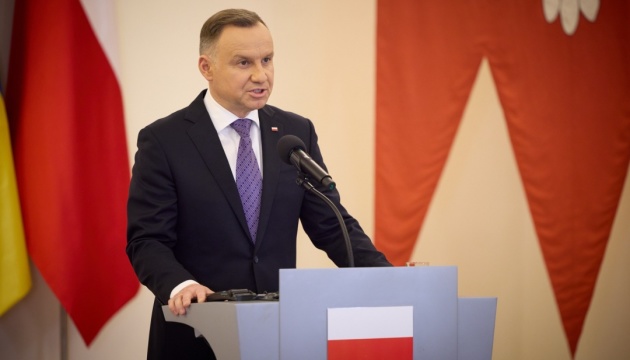 Duda: Russia still waging war despite using tanks from 1960s
Polish President Andrzej Duda warned against optimistic sentiments that Ukraine "has already won" and that "Russia has lost." Moscow poses a significant threat, and Kyiv will need significant help to prevail.
He stated this in an interview with The Wall Street Journal publisher Almar Latour, which was published on Wednesday in Dziennik Gazeta Prawna, Ukrinform reports with reference to the Office of the President of Poland.
He noted that today it is often heard that Putin has lost the war, and that Finland's accession to NATO is proof of this. However, the Polish president warned that, in fact, the Russian dictator has not lost a single war to date.
"I hope Vladimir Putin will lose. And for now, we have a situation where the Russian steamroller is crushing Ukraine as hundreds of people die on the front every day," said Duda.
He noted that there are more than 100 million Russians, and below 40 million Ukrainians, so this difference alone shows who has the upper hand in the conflict. He emphasized that for Russia, human life is worth nothing, but for Ukraine it is priceless, which shows the difference between the two cultures.
"Russia is a nuclear power, it has huge arsenals. Why are we laughing that Russia is pulling out tanks dating back to the 1960s as each tank weighs 50 to 60 tonnes. If it drives, it crushes, regardless of whether it's modern or not. Putin will lose the war when the Russian army is pushed back from the internationally recognized borders of Ukraine," Duda emphasized.
According to the Polish president, it is impossible to talk about Russia's defeat because the war is going on and Russia is mobilizing and putting the economy on a war footing.
"Please have no doubt that they can use propaganda to convince people that they need to tighten their belts, and even if they are hungry, they should be proud because Russia is great. Today, our common duty as a community of the West, of which Poland is a part, is to support Ukraine," Duda emphasized.
The president of the Republic of Poland noted that Poland and ordinary Poles have been actively helping Ukraine since the outset of the war. He emphasized that, according to Poland's estimates, in 2022, Poland provided aid to Ukraine in the amount of up to $8 billion, which is 1.5% of Poland's GDP.