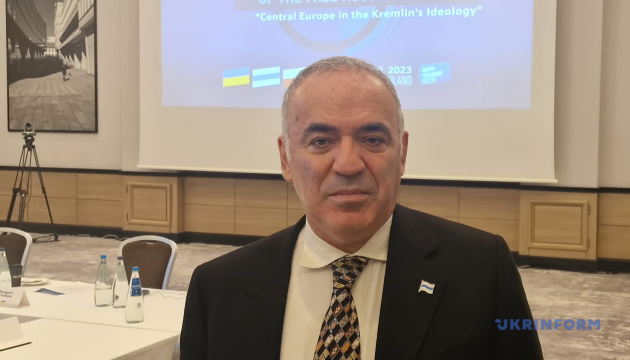 Kasparov: China playing its own game regarding Russian aggression in Ukraine
China has already realised that Russia will not win the war, so it is playing its own game regarding Russian aggression in Ukraine.
This opinion was expressed by Russian opposition politician Garry Kasparov in an interview with Ukrinform.
He noted that China has long-standing territorial claims to Russia, so Beijing has "much more interesting prospects" in terms of Russia's defeat in Ukraine.
"In my opinion, China is playing its own game, which brings with it a historical perspective. Of course, at the initial stage of the war, China would have been interested in Putin's victory, as it would have opened the way to Taiwan, and it would have been a defeat for the West and a success for the forces of totalitarianism and tyranny. However, China is pragmatic, and I think Xi Jinping has already realized that Russia will not win the war, and any other outcome opens up other opportunities for Xi Jinping", - Kasparov said.
According to the former world chess champion, China is currently interested in continuing the conflict, as it weakens both Russia and the West.
According to him, China is the only country that has territorial claims to Russia based on treaties of the 17th and 19th centuries.
"Chinese historiography has always maintained that the Russian Empire took away 1.5 million square kilometers of territory from them, which is the size of two and a half Ukraine - the area from Vladivostok to Lake Baikal. In contrast to Putin's fantasies about Ukraine, these are real maps, treaties signed between China and the Russian Empire in 1689 [the Treaty of Nerchinsk] and later in 1860 [the Treaty of Beijing]", - Kasparov emphasised.
He added that, from Xi Jinping's point of view, perhaps Russia's collapse in a protracted war "opens the way to much more interesting prospects than the war over Taiwan".
Referring to the peacekeeping efforts of other countries friendly to Russia, such as Hungary and Brazil, Kasparov said that in the first case, the issue is corruption, and in the second case, anti-Americanism, which is widespread in the so-called Global South.
As reported earlier, President of Ukraine Volodymyr Zelensky and Chinese leader Xi Jinping discussed their positions on stopping Russia's war against Ukraine in a telephone conversation on 26 April. Following this conversation, China's Special Representative for Eurasian Affairs, Ambassador Li Hui, travelled to Kyiv, Moscow and key European capitals to review the situation in detail in order to find a peaceful solution to end Russia's aggressive war against Ukraine.