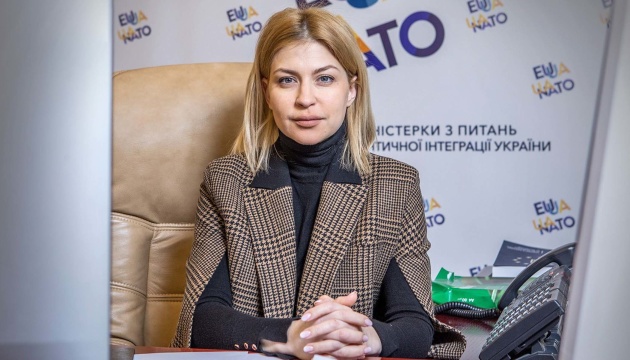 Europe's new security architecture impossible without Ukraine's integration – Stefanishyna
Ukraine's Deputy Prime Minister for European and Euro-Atlantic Integration Olga Stefanishyna has said that there is no European security architecture without Ukraine.
She said this during a debate of the Congress of the Alliance of Liberals and Democrats for Europe (ALDE) entitled "Strengthening Europe's security in wartime," which took place in Stockholm, Ukrinform reports, citing the Ukrainian government's website.
"The main lesson we learned during the first year of this war is learning in practice. Only through our own actions were we able to learn new lessons of how to stay more resilient, how to stay more confident, how to realize the very fact that our values are something we need to fight for. I am especially proud of the actions that have been taken collectively by the democratic world and individually by every state in Europe and on the other side of the Atlantic, as well as decisions taken in support of Ukraine. All these actions and decisions are success stories," she said.
According to her, one of the most important decisions was granting Ukraine the status of a candidate for joining the European Union. The official noted that on June 23 last year, all EU members demonstrated unity and steadfastness, and Ukraine received the prospect of a peaceful future as part of the European family.
"We must learn from these lessons. We are still far from a strategic vision of the future security architecture. But we're very close to starting to shape it, and I think it's time to make some decisions. The issue concerns the long-term strategic uncertainty regarding Ukraine's Euro-Atlantic aspirations - one of the decisions that the Russian Federation has been speculating about for years. Due to the adoption of political decisions regarding the involvement of Ukraine in the family of European and Euro-Atlantic defense architecture, we must finally admit the obvious thing: without Ukraine, there is no European security architecture," Stefanishyna said.
The main topics for discussion were also the strengthening of military support for Ukraine, as well as reconstruction and post-war recovery.
Kajsa Ollongren, Minister of Defense of the Netherlands, Marie-Agnes Strack-Zimmermann, member of Bundestag and Chair of the Defense Committee, Ausrine Armonaite, Minister for Economy and Innovation of Lithuania, also took part in the panel debate.
The panel was moderated by Daniel Berg, ALDE Party Vice-President.