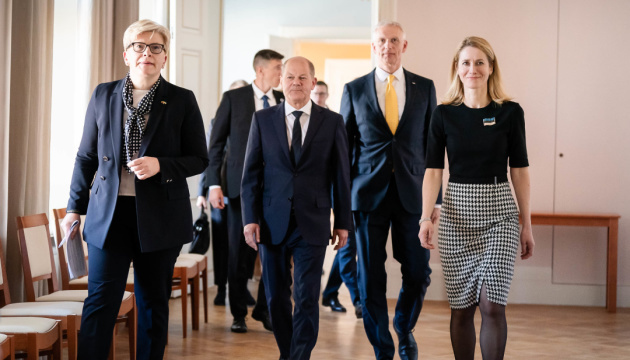 Ukraine war must not end in frozen conflict - leaders of Germany, Baltic states
Russia's war against Ukraine must not end in a frozen conflict, as it will become a breeding ground for future conflicts.
The leaders of Germany and the Baltic states said this at a joint press conference in Tallinn on Friday, May 26, according to an Ukrinform correspondent.
"It is absolutely clear that it could be not a frozen conflict. So if Russia is just thinking that it could succeed with its robbery of land of Ukraine, it will not succeed with this idea and attempts. And this is because and this is why we are supporting Ukraine as long as it is necessary. Russia must withdraw troops and this is the basis for peace," said German Chancellor Olaf Scholz.
Estonian Prime Minister Kaja Kallas completely agreed with him.
"Of course, Ukraine itself decides when this war ends and when it is possible to enter into negotiations. But as Olaf Scholz just said, a frozen conflict will only be a breeding ground for future conflicts. And we cannot allow that. Therefore, we have to put an end to 'gray zones' in Europe, particularly in Ukraine," she said.
Latvian Prime Minister Krisjanis Karins, in turn, said that the choice of the format of negotiations definitely remains with Ukraine. "But, obviously, it would be necessary to start with the fact that for this it is necessary to completely liberate Ukraine," he said, adding that the starting point for settlement should be the peace initiatives presented by Ukrainian President Volodymyr Zelensky.
Photo: twitter.com/Bundeskanzler