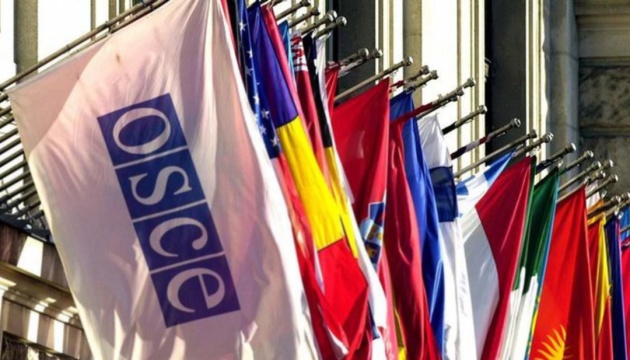 Neutrality amid Russia's war on Ukraine no option - U.S. Representative to OSCE
In Ukraine today, two systems are clashing: democracy and autocracy.
This was stated by the Permanent Representative of the U.S. to the OSCE, Michael Carpenter, during the 15th annual Kyiv Security Forum, founded by the Arseniy Yatsenyuk Foundation Open Ukraine, an Ukrinform correspondent reports.
"What we are seeing right now is the greatest clash of systems. Since at least the Cold War, probably since World War 2, we are seeing this work of a geopolitical competition that stretches from Russia's border with Belarus, it runs through Ukraine, the Black Sea, the South Caucasus, on the borders of Iran, Syria, and extends into China and North Korea. And on the one hand, we have democracies and on the other – autocracies. And I see this clash occurring at three different levels," he said.
At the individual level, there is a clash between the systems that protect individual rights, those who believe in individual liberty and those that espouse an ideology of collective will.
The second dimension of this confrontation, said the U.S. representative to the OSCE, takes place at the societal level, or at the level of countries.
"On the one hand, you have democratic systems where power devolves from the ground up, and in other cases you have systems where power is projected from the top down, and this is fundamentally about whether there exists a system of checks and balances, free media, and system of political pluralism, or not," said Carpenter.
Thirdly, there is a clash of systems occurring at the level of the international system. We face a division between those who would respect international law, the UN Charter, and the rules of war under Geneva documents.
And here Russia has violated every single one of their commitments under these core documents, notes Michael Carpenter.
"There is a number of imperatives that we face," said Carpenter.
"It is absolutely vital that Ukraine wins therefore we have to provide all the necessary military, economic, and humanitarian support," added the U.S. representative to the OSCE.
"Military neutrality in the face of this conflict is not just a moral stance. It's taking a stance at all three levels of this systemic clash. We're trying to mobilize resources, we're trying to get these counties that are in-between to see what's at stake, to invest in Ukraine's victory, to invest in democratic institutions, and fundamentally to look forward the vision, for which the OSCE stands for, which is comprehensive security," he concluded.