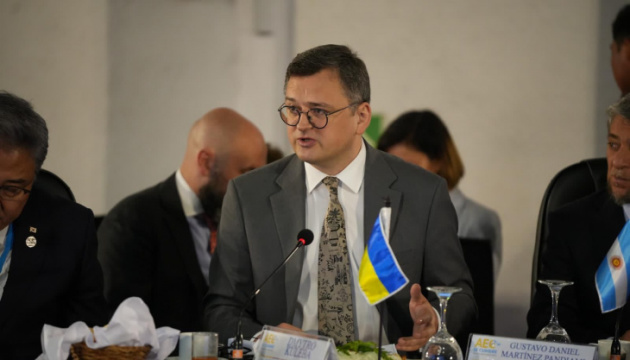 Ukraine supports Africa's representation in UN Security Council, G20 - Kuleba
On the occasion of Africa Day and the 60th anniversary of the founding of the Organization of African Unity (African Union), Ukrainian Foreign Minister Dmytro Kuleba has called for the reform of the UN Security Council in which African nations will be represented.
That's according to a statement issued by the Ukrainian Foreign Ministry, Ukrinform reports.
"As a co-founder of the United Nations, Ukraine has consistently defended and promoted the interests of African nations within the UN. Over many decades, Ukrainian specialists from various fields helped construct hundreds of infrastructure facilities in dozens of African countries. Processing plants, hydroelectric power stations, ports, bridges, roads, hospitals, and schools." Kuleba said.
He added that Ukraine had also been proud to host thousands of African students. "Many of them have become prominent political, business, and social leaders in their nations. We will be happy to welcome more young Africans who want to study and work in Ukraine," Kuleba said.
The minister stressed that Ukraine had always been committed to maintaining peace in Africa and had significantly contributed to relevant global efforts. He recalled that more than 300 Ukrainian peacekeepers had performed tasks within four UN missions in Africa: in the Democratic Republic of the Congo, South Sudan, Abyei Area, and Mali. As of February 2022, 80% of Ukrainian peacekeepers abroad were deployed in African countries.
Kuleba also commented on Ukraine's defensive war against Russian invaders: "This is not a border dispute, but a war of aggression. Russia tries to establish control over Ukraine because it does not recognize our right to exist as a sovereign nation and choose our path of peaceful and prosperous development." In this context, Kuleba called on African nations to join President Volodymyr Zelensky's Peace Formula.
He also added that Ukraine spares no effort to maintain its role as a food security guarantor for Africa and many other regions of the world.
"Our united voice should be strong in all international fora and within international organizations. And if they need to be reformed for that, including the UN Security Council, then we need to do so. We call for a more representative and democratic Security Council in which Africa, like all other world regions, will be represented. Ukraine also supports the idea of the African Union becoming a permanent member of the G20," Kuleba said.