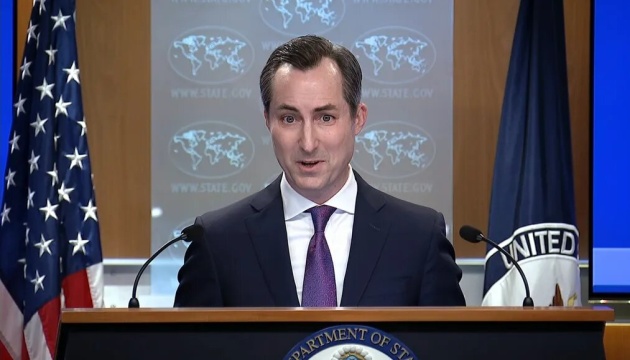 U.S. "concerned" about UN Secretary General's envoy meeting with Russia's Lvova-Belova
Washington has expressed concern in connection with the official meeting of the UN Secretary General's special representative with the Russian children's "ombudswoman" Maria Lvova-Belova, who is wanted by the International Criminal Court (ICC).
This was stated on Wednesday by the spokesperson of the U.S. Department of State, Matthew Miller, Ukrinform's own correspondent reports.
"We are deeply concerned that a senior UN diplomat met with a fugitive subjected to an ICC arrest warrant for committing war crimes against children," said State Department official.
He stressed that this undermines the common commitment to protect children in conflict zones.
Miller recalled that the Russian authorities are deliberately deporting children from Ukraine, denying their parents access to them and trying to change their identity by issuing Russian passports.
"Children are among the most vulnerable groups they must be protected, especially in times of war. And we continue to call for accountability for war crimes," Miller stressed.
As reported, last week the Commissioner of the Russian Federation for Children's Rights, Maria Lvova-Belova, held an official meeting with the Special Representative of the UN Secretary General for Children and Armed Conflict, Virginia Gamba.
On March 17, the International Criminal Court in The Hague issued arrest warrants for Maria Lvova-Belova and Vladimir Putin in connection with war crimes, namely the deportation and illegal removal of the population, including children, from the occupied territory of Ukraine.