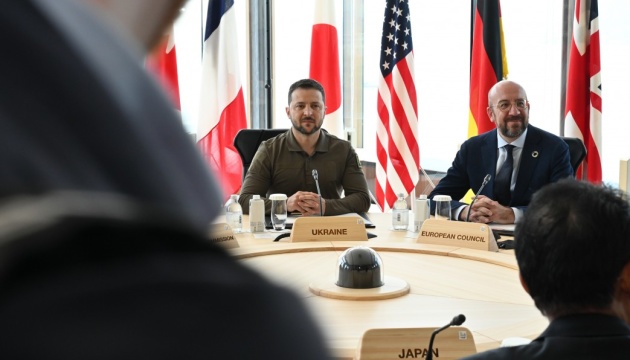 Zelensky: Russia "not looking for peace" as 183 failed talks prove
President Volodymyr Zelensky says that, since February 24, 2022, Ukraine has held 183 rounds of negotiations with Russia with the participation of international mediators, where everyone saw that Russia was not looking for peace.
The head of state said this at the working session of the G7 summit " Towards a peaceful, stable and prosperous world" with the participation of the G7nations, Ukraine, and partners, according to Zelensky's press service.
"At the time, before the 24th of February, Ukraine held more than one hundred eighty rounds of negotiations with Russia – 183 – in various formats to stop the aggression. There were respectable international mediators in those negotiations, and they all saw that Russia was not looking for peace. Ceasefire didn't work. It was in place for 7 years and thousands of people were killed," Zelensky said.
He noted that nothing has changed since then, "except that we, defending ourselves, have significantly weakened Russia."
"Now it openly wants to freeze the war – not for the sake of tranquility, but for the sake of gaining some time, gaining strength and striking again," President Zelensky emphasized.
He also noted that everyone in the world felt the destructive consequences of Russian aggression.
"Some have suffered from skyrocketing prices for food or energy resources. Some see that in the event of a disaster at a nuclear power plant occupied by Russia, radiation will reach their land, carried by the wind. Some know that if Russia succeeds in keeping the stolen Ukrainian territory, an aggressive neighbor will come to their land as well. Our world is vast, but we are all in it together. And this is our shared cause – peace," Zelensky added.
As reported earlier, the 48th summit of the Group of Seven leaders is underway in Japan. Its participants consider ways to ensure the stability of the global economy, including the consequences of the coronavirus pandemic and Russian aggression against Ukraine.