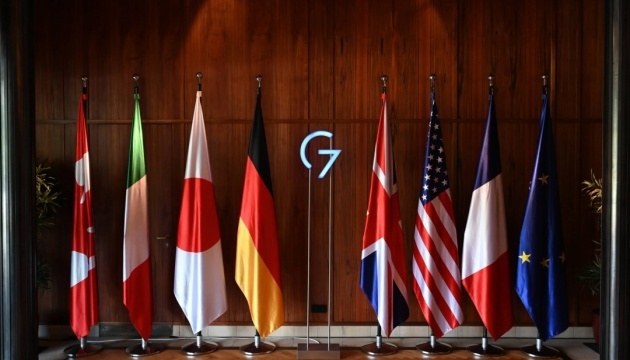 G7 Hiroshima Leaders' Communiqué reiterates unwavering support for Ukraine
The Group of Seven (G7) leaders, who met at the Summit in Japan's Hiroshima, have issued a joint communiqué, reiterating their unwavering support for Ukraine in its struggle against Russian aggression.
The full text of the communiqué was published on the website of the European Council, an Ukrinform correspondent reports.
"We, the Leaders of the Group of Seven (G7), met in Hiroshima for our annual Summit on May 19-21, 2023, more united than ever in our determination to meet the global challenges of this moment and set the course for a better future. Our work is rooted in respect for the Charter of the United Nations (UN) and international partnership," the document reads.
According to the communiqué, the G7 Leaders are taking concrete steps to support Ukraine for as long as it takes in the face of Russia's illegal war of aggression.
The G7 Summit's decisions are also related to strengthening disarmament and non-proliferation efforts; coordinating their approach to economic resilience and economic security; driving the transition to clean energy economies of the future through cooperation within and beyond the G7.
The parties also issued the Hiroshima Action Statement for Resilient Global Food Security with partner countries to address needs today and into the future.
In addition, the G7 Leaders announced their intent to mobilize up to $600 billion in financing for quality infrastructure through the Partnership for Global Infrastructure Investment (PGI).
A separate section of the communiqué was dedicated to Ukraine.
"We once again condemn in the strongest possible terms the war of aggression by Russia against Ukraine, which constitutes a serious violation of international law, including the UN Charter. Russia's brutal war of aggression represents a threat to the whole world in breach of fundamental norms, rules and principles of the international community. We reaffirm our unwavering support for Ukraine for as long as it takes to bring a comprehensive, just and lasting peace," the G7 Leaders emphasized.
Additionally, the G7 Leaders' issued a Statement on Ukraine.
"With the clear intention and concrete actions set forth in it, we commit to intensifying our diplomatic, financial, humanitarian and military support for Ukraine, to increasing the costs to Russia and those supporting its war efforts, and to continuing to counter the negative impacts of the war on the rest of the world, particularly on the most vulnerable people," the G7 Leaders stressed.
A reminder that the 49th G7 Summit is taking place in Japan's Hiroshima and will last until May 21, 2023.