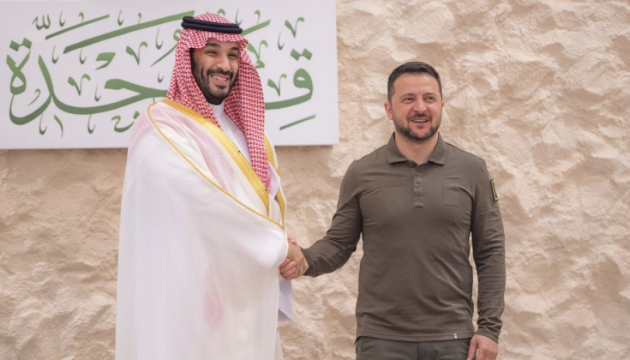 Zelensky invites Arab League states to join Ukrainian peace formula
President Volodymyr Zelensky called on the Arab League member states to join the implementation of the Ukrainian peace formula.
Zelensky delivered a relevant speech at the Arab League summit in Jeddah, Saudi Arabia, an Ukrinform correspondent reports.
"Each of the honorable delegations was given a document in their language with 10 points of the peace formula. Please, you can choose the point that you consider appropriate, and I will be grateful to each of you who will choose exactly the direction to rescue people from Russian captivity. So I invite all of you who respect peace to join the implementation of the Peace Formula and thus reduce enmity, suffering, and evil," said the President of Ukraine.
He noted that his main appeal at the summit is to protect our people, including the Muslim community of Ukraine. Zelensky noted that Crimea was the first to suffer from the Russian occupation, and Muslims are still subjected to repression in the occupied Crimea.
"Look at how much suffering the long-term wars have brought to Libya, Syria, and Yemen; how many lives have been wasted by years of fighting in Sudan and Somalia, Iraq and Afghanistan. Everyone who adds to suffering by new aggressions, everyone who sows enmity, everyone who wants to bring back the old days of invading empires that do not take into account the will of independent nations. Every aggressor goes against the world and will be cursed by the people," Zelensky addressed the leaders of the Arab countries.
In addition, the Ukrainian leader thanked the countries for supporting the international positions of Ukraine and the UN Charter and emphasized the possibility of expanding the positive experience with Saudi Arabia in freeing people from Russian captivity. The President also noted that Ukraine, together with the Arab countries, managed to ensure food security.
As reported, President Zelensky is visiting Saudi Arabia on May 19, where he plans to discuss the return of Ukrainians from Russian captivity, the peace formula, the issue of energy security, and the protection of the Muslim community of Ukraine.