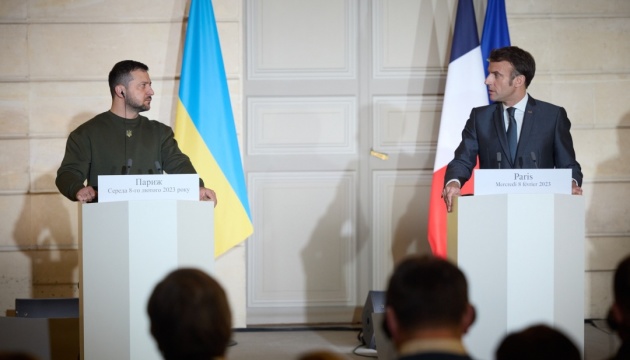 Elysee Palace confirms Zelensky visit
The office of French President Emmanuel Macron has confirmed that Ukrainian leader Volodymyr Zelensky will visit Paris.
That's according to CNN, which cites a statement by the Elysee Palace.
According to the news outlet, Zelensky will visit Paris on Sunday for a working dinner with Macron at the Elysee Palace.
"This exchange will allow them to continue and deepen their dialogue of trust after their meeting last February 8 in Paris and their regular telephone exchanges since then," the statement said.
It added that during the meeting, Macron will "reaffirm the unfailing support of France and Europe to restore Ukraine's legitimate rights and defend its fundamental interests."
"This evening's discussion will therefore focus on the support that France continues to provide in response to Ukraine's urgent military and humanitarian needs. The two Presidents will also discuss the longer-term prospects for the return of peace in Europe, notably on the basis of the Peace Plan proposed by President Zelensky, which France supports," the Elysee Palace said.
The French media reported earlier that Zelensky might arrive in Paris on Sunday after his visit to Germany.
According to Le Figaro, French Prime Minister Elizabeth Bourne and Foreign Minister Catherine Colonna will meet the Ukrainian leader at the airport.
Photo: Office of the President of Ukraine