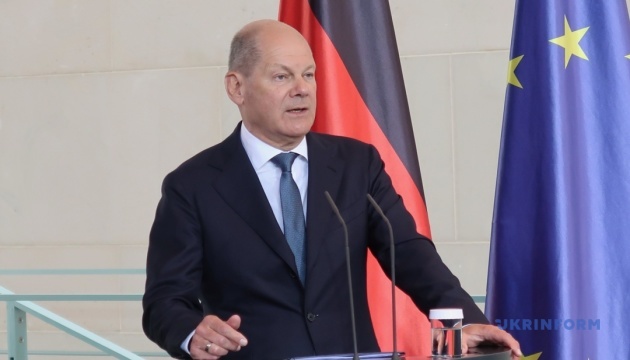 Scholz: Ukraine may rely on Europe's support
Ukraine is Europe and may rely on the support of European partners.
German Chancellor Olaf Scholz said this at the ceremony of awarding President of Ukraine Volodymyr Zelensky the International Charlemagne Prize of Aachen on May 14, an Ukrinform correspondent reports.
"The war proved that Ukraine is a part of the European family," Sholtz emphasized. He stressed that the promise made last summer regarding the membership prospect will be fulfilled, and Ukraine may fully rely on European friends, be it humanitarian, financial, or security assistance.
Ukrainians and Russians are not one people as Russian president Putin claims in his imperial speeches, Scholz emphasized. Ukrainians are people with an incredibly rich culture, traditions, and identity. And they themselves determined their future – the European future. The Russian war strengthened Ukraine as a political nation and made its aspiration to become a European nation irreversible, the Chancellor said. According to him, if Putin hoped to turn Ukraine away from the European path, he achieved the opposite with his tanks, drones, and missiles.
The Chancellor also added that Europe has many things to thank the Ukrainian people and its president for. Ukraine defends the principles that Europe defends.
Immediately after Russia's attack on Ukraine, it became clear that the Ukrainian people will not bow down to Russian violence, they will fight and resist brutal Russian aggression.
"We stand together and our history will continue together... the Russian war of aggression has united the EU and Ukraine like never before. In solidarity and unity, we stand on the side of Ukraine... Europe stands together," he emphasized.
Scholz called it a very reasonable decision to award the President and the entire nation the International Charlemagne Prize of Aachen because they have been acting together since February 24, 2022. European democratic societies admire and bow their heads to the courage of the Ukrainian people and its leader, emphasized the German chancellor, ending his speech in Ukrainian: "Ukraine is here, Ukraine is Europe. Slava Ukraini!"