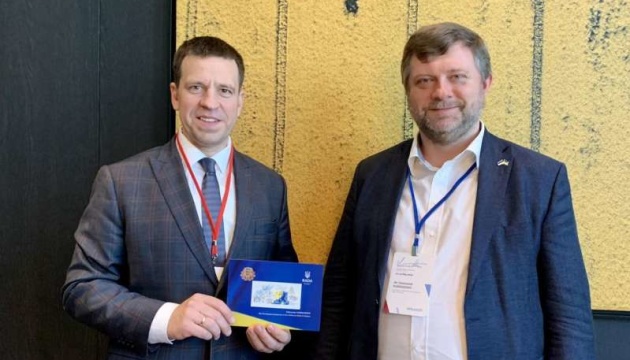 Ukrainian, Estonian politicians discuss Ukraine's Euro-Atlantic aspirations
First Deputy Chairman of the Verkhovna Rada of Ukraine Oleksandr Korniienko has met with Second Vice-President of the Riigikogu (Parliament) of Estonia Juri Ratas.
Both parties discussed Ukraine's aspirations to join NATO, Ukrinform reports, citing the press service of the Ukrainian parliament.
According to Korniienko, the adoption of a statement supporting Ukraine's accession to NATO is extremely important for Ukraine ahead of the NATO summit in Vilnius.
"Our joint task should be the adoption by the allies at the Vilnius summit of a decision regarding Ukraine - we need a clear algorithm for moving towards the North Atlantic Treaty Organization," he said.
He also noted that Estonia is a real leader in terms of the total amount of military aid to Ukraine per capita.
Korniienko also informed his Estonian colleague about the current situation in Ukraine and recent missile attacks on Ukrainian cities. He stressed that Russia should be held accountable.
"We are talking about the creation of a special tribunal to investigate crimes of armed aggression by the terrorist state on the territory of our country," the Ukrainian parliamentarian said.
At the same time, Korniienko thanked Estonia for its comprehensive support and significant assistance to Ukraine on its path to victory.
Korniienko is on a working visit to Estonia on May 13-14.
He visited Lithuania on May 10-12.