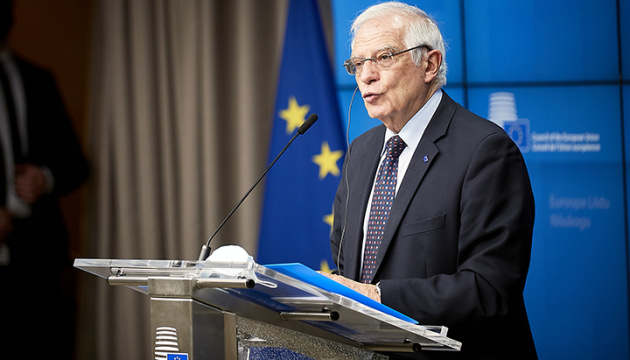 EU prepares multi-annual plan to support Ukraine - Borrell
The European Union should focus its efforts not only on immediate measures to support Ukraine on the battlefield but also on developing a long-term assistance program that will prove that Russia's hopes for EU tiredness are futile.
High Representative of the EU Josep Borrell said this today in Stockholm before the informal meeting of EU foreign ministers (Gymnich), an Ukrinform correspondent reports.
"Today, the meeting has two points: Russia's aggression against Ukraine and recalibrating our relationship with China. On the first issue, it is clear that we have to continue supporting Ukraine, and we have to do that in the long haul. Not just providing ammunition for tomorrow's fight, but looking in the medium term and preparing a multiannual support to Ukraine. Ukraine has to be sure that we will support it [them], not just in the everyday battle in the war, but in the long haul", Josep Borrell highlighted.
According to him, Ukraine should be confident that we will support it not only in the day-to-day battle in this war but also for a long time.
"And Russia has to understand - Putin has to understand - that we will not fall. So, stop waiting for us to get tired. We will not," the EU top diplomat said.
He noted that the ministers would discuss support for President Volodymyr Zelensky's peace plan and consider bringing to justice those responsible for crimes against Ukraine.
The EU High Representative emphasized that he personally supports the idea of establishing an international tribunal, which is also supported by other democratic countries. Therefore, the ministers will focus on finding quick solutions to this task that would be practical, fast and ready to use.
Borrel said China will be another big issue during the meeting of European officials in Stockholm. The foreign ministers received a concept paper from the European External Action Service to define the EU's position on China. This issue will be submitted for consideration by EU states and governments during the European Council at the end of June this year.
"We cannot have a normal relation with China if China does not use the strong influence that China has on Russia in order to stop this war. The attitude of China towards the war in Ukraine is the second strategic security issue that we will discuss today," Borrel said.
As Ukrinform reported, an informal meeting of foreign ministers will take place in Stockholm today, during which European officials will consider the most important issues of EU foreign policy, including support for Ukraine and defining a strategy for EU-China relations.