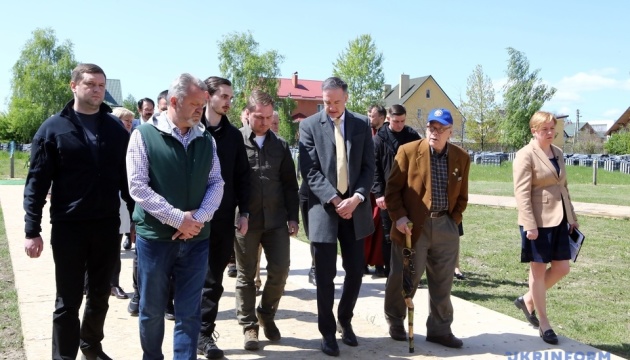 U.S. Congress delegation visits Bucha
U.S. Congress delegation, which included members of the Helsinki Commission, visited Bucha, Kyiv region.
As an Ukrinform correspondent reports, head of the delegation and Chairman of the U.S. Helsinki Commission Joe Wilson, Commission member Steven Cohen, and U.S. Ambassador to the OSCE Michael Carpenter honored the memory of those killed in Bucha by laying flowers and observing a moment of silence.
They also looked at photos taken in the town immediately after its liberation and talked to families who were victims of Russian crimes.
"It is important for Americans to know about the horrors that happened here and to receive encouragement from the people of Ukraine in the confrontation, in the bipartisan work of Republicans and Democrats in Congress who support the victory of the people of Ukraine, that is, the restoration of territorial integrity," said Joe Wilson.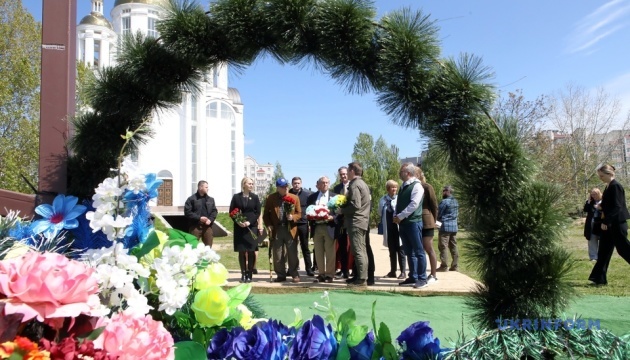 In turn, Michael Carpenter emphasized that it is necessary to talk about the human dimension of the tragedy: "So that our colleagues from all over the world understand what is at stake. It is about freedom – not just about principles. It is about dignity, about what is right in this world. What we've seen today is very emotional."
He also said that the United States will help Ukraine ensure accountability for every child deported by the Russians and work with Kyiv to reunite families and help victims.
He noted that the report published within the framework of the OSCE Moscow Mechanism shows that the situation with Ukrainian children who are forcibly deported to the territory controlled by Russia or the territory of the Russian Federation is a serious violation of the Geneva Convention, a war crime and, probably, a crime against humanity
"We must ensure accountability for each of these crimes. We will work with the Government of Ukraine, and we will follow their lead and assist them as they see fit to help reunite families and provide psychological support to affected children and families," Carpenter said.
The U.S. ambassador emphasized that the Russians involved in these practices must know that there will be accountability for every child taken from their home and family, and the United States will work to achieve this.