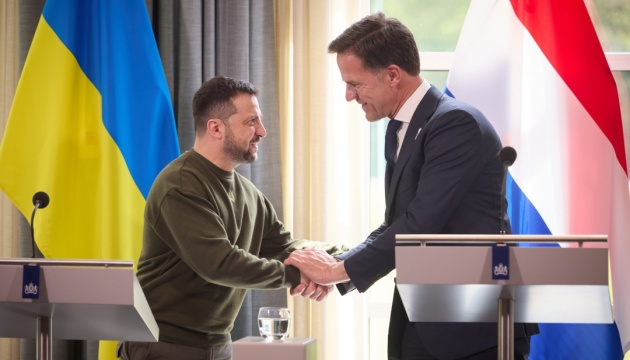 Zelensky, Rutte call on Russia to immediately stop war
There can be no peace without justice for the violations of international law, nor for the terrible crimes committed after Russia's invasion of Ukraine.
That's according to a joint declaration by Ukraine and the Netherlands, which was published on the website of the Office of the President of Ukraine, Ukrinform reports.
"The aggression against Ukraine by the Russian Federation is a manifest violation of the Charter of the United Nations and a grave breach of international peace and security, which threatens the rules-based international order, violates human rights and undermines democratic values. We hold Russia accountable for these violations. Furthermore, Russian officials and other individuals who planned, prepared, initiated, ordered and/or executed international crimes must be held to account in a court of law. Our aim is to exclude impunity for these crimes, which include forcible deportations and intentional attempts to erase Ukrainian identity and ethnicity, including culture and language," the statement said.
In their joint declaration, President Volodymyr Zelensky and Prime Minister Mark Rutte called on Russia to immediately and unconditionally comply with an Order of 16 March 2022 of the International Court of Justice, which stipulates that Russia must immediately suspend its military operations.
In addition, work continues to ensure that all interested international partners join the fight against impunity in Ukraine and around the world.
"We commend the efforts of the International Criminal Court following the referral by forty-three states of the situation in Ukraine to its Prosecutor. In particular, we welcome the arrest-warrants issued by the ICC on 17 March 2023 against President Vladimir Putin and Commissioner for Children's Rights Maria Lvova-Belova. We call on all States Parties to the Rome Statute to take all necessary actions to execute these arrest warrants, as well as any forthcoming arrest warrants by the ICC in relation to international crimes committed in Ukraine," the document said.
Zelensky and Rutte also confirmed that a Register of Damage caused by Russia's Aggression against Ukraine would be hosted in The Hague.
"The Register is the first step towards the establishment of an international compensation mechanism that is required to ensure full and effective reparation by the Russian Federation for all damage, loss or injury caused by its aggression against Ukraine, as recognized by UN General Assembly resolution ES-11/5 of 14 November 2022. This duty under international law is not conditional upon Russia's consent," the statement added.
Photo: Office of the President of Ukraine