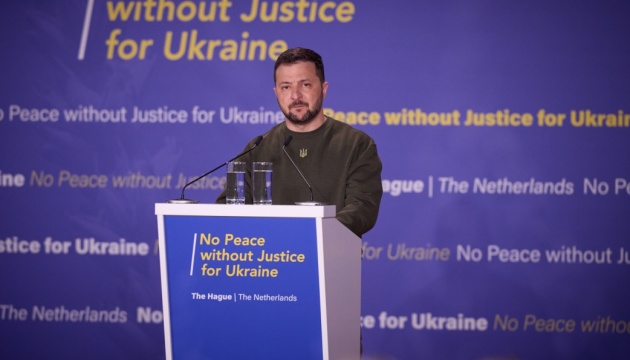 Zelensky: Ukraine to work towards creating separate international tribunal, not hybrid one
President of Ukraine Volodymyr Zelensky has stated that Ukraine does not want to agree to any hybrid tribunals for Russia and will work towards creating a separate international tribunal.
"Regardless of one or another work that is currently being done with partners, we will still work towards creating a separate special international tribunal for Russia because we must convict the crime of aggression... We know where the hybrid peace came from in 2014 – these are the Minsk agreements – and we know what this led to. Therefore, Ukraine does not want to agree to any hybrid peace and hybrid tribunal," Zelensky said at a joint press conference with the prime ministers of the Netherlands and Belgium in The Hague, an Ukrinform correspondent reports.
He noted that now there is already a large group of countries that support the creation of a special tribunal but, of course, there are different opinions on the format of its work.
Ukraine's position, according to Zelensky, is very clear: to work without any hybrid formats, to create a specific tribunal to hold Russia accountable for all crimes, including murders and torture.
"The people who gave the orders must be held liable. It is very important for us, it is one of the fundamental issues," the President said.
As reported, in September 2022, President Zelensky formed a working group led by Head of the President's Office Andriy Yermak to work on the issue of creating a special tribunal to prosecute the leadership of the Russian Federation for the crime of aggression against Ukraine. The creation of such a tribunal was supported by the Parliamentary Assembly of the Council of Europe, the European Parliament, the NATO Parliamentary Assembly, the OSCE Parliamentary Assembly, and individual countries.
Recently, information appeared in the Western media that the West, allegedly, considers a hybrid tribunal to be the most realistic option for holding the Russian Federation accountable. This tribunal may combine the jurisdiction of Ukraine and the trial based on international law.
Ukraine, on the other hand, is in favor of an international, not a hybrid model of the tribunal which will allow to convict the Russian leadership of the crime of aggression on behalf of the entire civilized world.
Photo: President's Office