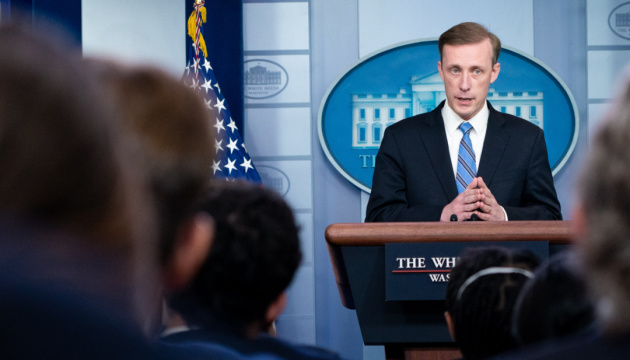 White House responds to calls from some Republicans to reduce support for Ukraine
Supporting Ukraine and standing up for the values of freedom around the world directly correspond to the national security interests of the United States, so the current U.S. administration, as all previous ones, will continue to pay direct attention to this.
Jake Sullivan, the national security advisor to President Joe Biden, said this at a briefing in Washington on Monday, according to an Ukrinform correspondent.
"I've heard some voices saying that, for example, we should not support Ukraine, because we have to be focused at home," Sullivan said, commenting on statements by some Republicans on this matter.
He said that Democratic and Republican presidents had made efforts in both directions for decades.
"We can look after our people at home and make far-reaching investments in the middle class here for good-paying jobs for years and decades to come, while also standing up for the values that we hold dear around the world, including the value of freedom and freedom for the people of Ukraine," Sullivan said.
He noted that this was not an abstract proposition. For one year since the beginning of Russia's full-scale invasion of Ukraine, the United States has not only mobilized an international coalition to resist Russian aggression and to protect Ukraine as a sovereign and independent country, but has also made "historic investments" in clean energy, infrastructure and technology in the United States, which only made the middle class stronger.
"The United States has significant obligations around the world, obligations that relate directly to our national security and to the well-being of working people in this country. And we will discharge those obligations," Sullivan said.
Last week, a group of 19 far-right Republicans sent an official letter to President Joe Biden in which they laid out pro-Russian narratives and called on the U.S. government to stop sending military aid to Ukraine. They said the U.S. government should focus on solving domestic problems.