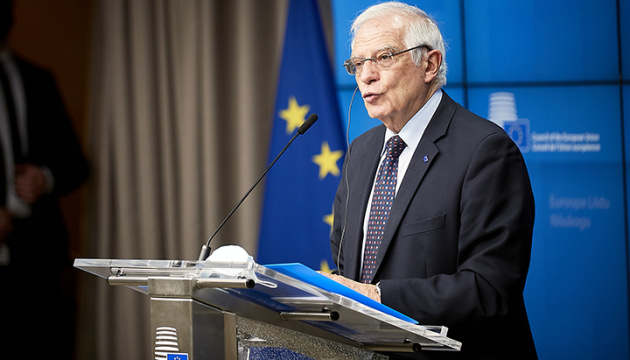 To put forward peace proposals, one must first visit Ukraine - Borrell
A number of countries are putting forward proposals for a peaceful settlement in Ukraine, but for such proposals to be effective, one must first visit Ukraine and understand the difference between an aggressor and a victim of aggression.
EU High Representative Josep Borrell said this at a press conference in Luxembourg on Monday, April 24, following a meeting of the EU Foreign Affairs Council, according to an Ukrinform correspondent.
"Foreign Minister [of Ukraine, Dmytro] Kuleba has updated us via VTC on the situation on the ground, and on Ukraine's priorities and needs. We know that Ukraine needs ammunition and missiles urgently, and they need them to defend its territory. It is not that Russia does not want to stop and Ukraine does not want to stop either. No, this is not the way of presenting things. Russia does not want to stop the invasion and Ukraine has to continue defending [itself]. This is the right way of explaining what is happening there," Borrell said.
"I want to recall the horrible situation on the ground to all people who are calling for peace now. I am calling for peace too. But these calls, where were these calls when Russia was massing up troops on the borders? We all want peace, and first and foremost the Ukrainians. But it needs to be a just peace. And until then, we will continue supporting Ukraine's defense," Borrell added.
He recalled that recently, some ideas regarding peace were floated by China, and also by Brazil. "For credible, honest peace efforts, one needs to also talk to Kyiv and go there to see the aggression through their eyes, through the eyes of those who are being bombed. One needs to be very clear about what is happening. There is an aggressor, who has violated the United Nations Charter and invaded another country, and there is a victim of this aggression," he said.
"We cannot accept this kind of benevolent approach saying 'oh, one does not want to stop, and neither the other. Oh no.' You cannot put on the same level the aggressor and the aggressed. This is why we are supporting Ukraine [also militarily], now including tanks, air defense and even fighters. Some Member States are also providing air capacities," Borrell said.