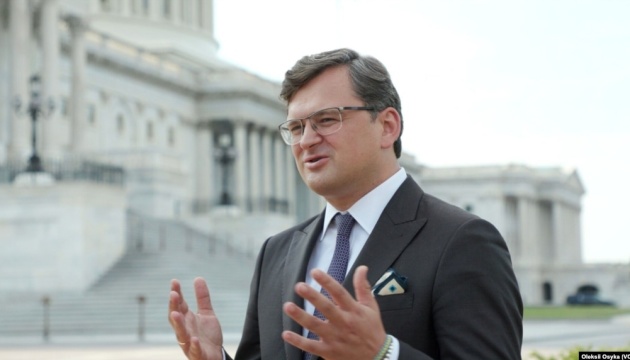 Kuleba calls on EU to speed up weapons, ammunition supply to Ukraine
European security now depends on the speed and amount of weapons and ammunition supplies to support Ukraine in restoring its territorial integrity and just peace.
Ukrainian Minister of Foreign Affairs Dmytro Kuleba said this at a European Council on Foreign Affairs Council meeting, Ukrinform reports citing the Ukrainian Foreign Ministry.
"Russia's defeat is a guarantee of a normal life for Europe. There is no more important task today. To achieve it, Ukraine needs more weapons and ammunition, and all this should be delivered as soon as possible," the minister emphasized.
According to Kuleba, the side with the best logistics and supplies has the best chance to win the war. He called on his European colleagues to speed up the supply and ensure Ukraine's decisive advantage over Russia on the battlefield.
"We have a common strategic goal: to ensure European peace for future generations. This goal now depends on the speed of your decisions and their implementation. Let's remove all paper walls. Let's overcome all procedural obstacles. Let's speed up every process. Let's eliminate any delays between the decision to provide weapons and their arrival at the border of Ukraine," he called.
The Minister listed short-, medium- and long-term military needs. He called for providing Ukraine with more armoured vehicles, tanks and artillery systems, long-range artillery and ammunition as soon as possible, strengthening Ukraine's air and missile defense and integrating it with neighboring EU countries, as well as immediately starting training Ukrainian pilots on F-16s and making it possible to provide Ukraine with Western-made combat aircraft.
In the medium term, the minister called on his European colleagues to increase the capacity of logistics and repair hubs, continue and expand training programs for the Ukrainian military, and cover the needs for ammunition by increasing production.
In the long-term perspective for several years, the Ukrainian Foreign Minister called on EU foreign ministers to focus on developing a common defense policy that would include Ukraine as an integral part.
"Today marks exactly 14 months since the beginning of the largest political and security earthquake in our lives and in the modern history of Europe. No one expected the scale of the aggression, neither that Ukraine would withstand the blow nor that the EU would demonstrate such unity and strength. We have to prove Putin wrong, thinking that he can wait out our strength, that we will blink first and that our resolve will falter before his aggression does. No, we will not step back, and we will not get tired. We will not falter. He will falter," the minister summarized.
As reported, EU foreign ministers meeting in Luxembourg on April 24 are seeking a compromise on the procedure for jointly ordering ammunition for Ukraine from defense companies.
Earlier, the EU Council decided to allocate an additional 2 billion euros from the European Peace Facility, one of which has already been allocated to compensate for the supply of ammunition to Ukraine from European army arsenals. As for the use of the second billion euros, which was intended for a joint order for the production of 155-mm shells, there were disagreements between member states over the place of execution of the relevant defense contracts.