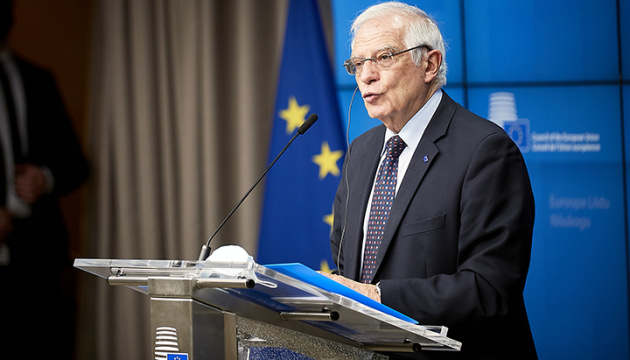 Borrell: EU's relations with China depend on Beijing's position on withdrawal of Russian troops from Ukraine
The European Union can't develop "normal relations" with China if Beijing does not use its influence on Russia to persuade it to withdraw its troops from Ukraine and end the war.
The EU High Representative Josep Borrell said this during a session in the European Parliament on the strategy of relations between the EU and China, an Ukrinform correspondent reports.
A top EU official said the president of the European Commission, Ursula von der Leyen, during her visit to China, stated that relationships between the EU and China wouldn't be developed normally unless China uses its influence on Russia to withdraw its troops from Ukraine to end this war".
Borrel also noted that amid the conflict, which concerns the territorial integrity and sovereignty of an independent state whose borders are protected by international laws and the obligations of world powers, including Russia and China, any neutrality works in the aggressor's favor.
The EU High Representative said that the EU continues to talk to avoid, from the political point of view, a "new cold war" between the West and the Far East like the one that happened before with the East.
According to Borrel, despite the differences in positions on key issues of values and human rights, the EU should continue to talk to China. The EU diplomat said that China is an influential global power and has a huge economic impact, particularly in the Global South.
"We must keep talking to China because of its ... influence in the world", said Borrel, adding that dialogue is the basis of international politics as long as something as inevitable as between Ukraine and Russia happens. China has already appeared in the international arena, and it will remain an important player. In a few years, Borrel pointed out, China and India will account for half of the world's production.
As reported, a week ago, European Commission President Ursula von der Leyen and French President Emmanuel Macron visited China. Politicians outlined the European side's position on ways to stop Russia's aggressive war against Ukraine on the basis of respect for the UN Charter and through the complete withdrawal of Russian troops from Ukraine within its internationally recognized borders.
Photo: Ministerio de Asuntos Exteriores y de Cooperación