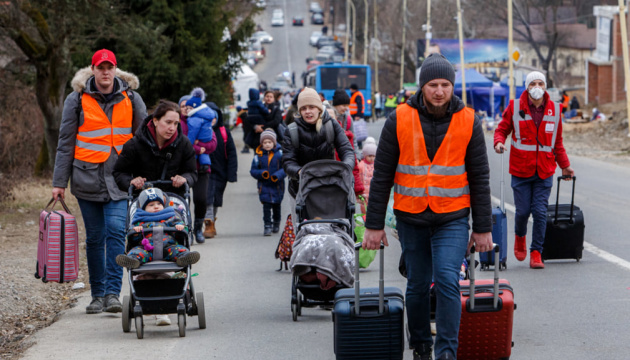 Russian fake news: many Ukrainians going abroad after Putin's statement about nuclear weapons in Belarus
Propagandists invented statements by Ukraine's State Statistics Service and State Border Guard Service and took MP Arakhamia's words out of context
The Russian propaganda's Telegram channel has spread misleading information about the increased number of Ukrainians leaving the country after Russian President Putin's announcement that tactical nuclear weapons will be stationed in Belarus. Propagandists supported this claim with an interview that Davyd Arakhamia, leader of the Servant of the People party, gave to Sky News, in which he expressed an opinion about the need for additional mobilization and added that according to Ukraine's State Statistics Service, from March 26 to 29, there was greater demand for tickets to Poland. In addition, citing a statement by Ukrainian State Border Guard Service spokesperson Andriy Demchenko, the propagandists wrote that the number of citizens leaving Ukraine was growing, as if between March 20 and 24, about 20,000-21,000 people left Ukraine every day, and on March 25, this number increased to 40,000 people and continued to grow by about 4,000-5,000 every day.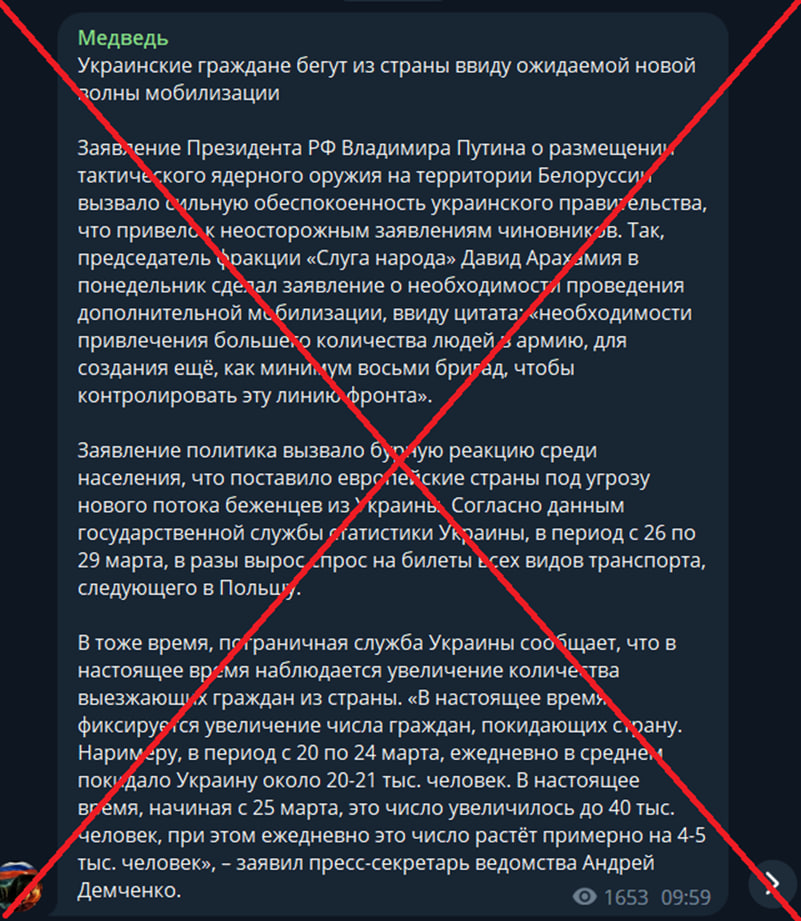 Such information is false.
First, Davyd Arakhamia's words were taken out of context. In fact, he stated that if Russia stations tactical nuclear weapons in Belarus, Ukraine will face a challenge, which today it considers as a threat, not a reality, however, in the event of the opening of a second front on the border with Belarus, it will be necessary to form additional brigades. Later, Arakhamia explained on national television that Ukraine is ready for all threats from the enemy and any scenario is theoretically possible. He also added that the mobilization campaign in Ukraine is ongoing and will be ongoing in the future. He explained that mobilization in Ukraine is taking place on a regular basis and there are no extraordinary actions. If it is necessary to create additional brigades, mobilization will still continue.
Secondly, it turned out that the propagandists simply invented the data which they used when creating the post. For example, there is no information on the official website of the State Statistics Service that from March 26 to 29, the demand for tickets from Ukraine to Poland increased by many times. In addition, the State Statistics Service's press service denied such allegations and noted that the State Statistics Service had nothing to do with this data.
In a comment to Ukrinform, Demchenko also denied his involvement in the statement used by the Russians. He also added that the information provided in the post by propagandists was not true.
Dmytro Badrak