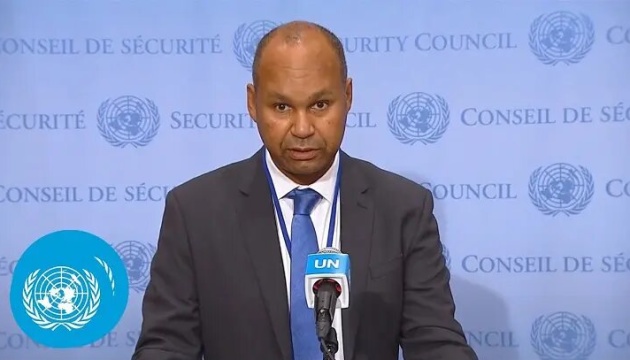 Russia's nuclear blackmail will not prevent support for Ukraine – UK at UN
Even by resorting to nuclear blackmail, Russia will not be able to weaken support for Ukraine from its international partners.
According to an Ukrinform correspondent, Ambassador James Kariuki, the UK's Permanent Representative to the UN Security Council, said this at a meeting of the organization dedicated to the discussion of Russian President Vladimir Putin's threats regarding the deployment of tactical nuclear weapons in Belarus.
"President Putin's announcement on 25 March [on his intention to station tactical missile weapons in Belarus] is his latest attempt to intimidate and coerce. This has not worked and will not work. We will continue to support Ukraine's efforts to defend itself," Kariuki said.
He said that during the war in Ukraine, only Russia raises the issue of the possible use of nuclear weapons. "We will stand firm in our support to the people of Ukraine, and call on Russia to de-escalate; it should start by ceasing its illegal and unprovoked invasion," the diplomat said.
Kariuki also urged Belarusian President Alexander Lukashenko "to stop enabling Russia's reckless and escalatory actions."
On March 25, Putin said Russia would deploy tactical nuclear weapons in Belarus. Earlier, in February of this year, he said Russia was "suspending" participation in the Strategic Offensive Arms Reduction Treaty signed with the U.S. (NEW START), although the provisions of the treaty document provide no opportunity for its "suspension."
The parties to the Treaty on the Non-Proliferation of Nuclear Weapons are almost all countries around the world, except Israel, India, Pakistan and North Korea.
Photo: Courtesy