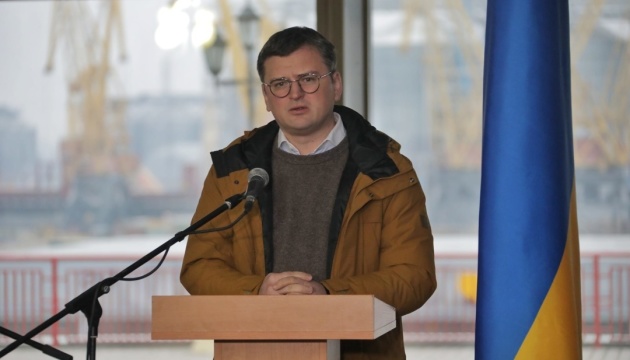 Kuleba's second Africa tour scheduled for this summer
The Ukrainian Foreign Ministry is working to organize a second Africa tour for Ukrainian Foreign Minister Dmytro Kuleba this summer and hold a Ukraine-Africa summit.
Maksym Subkh, Ukraine's Special Representative for the Middle East and Africa, said this in an interview with Ukrinform.
"We are currently working to ensure that the minister's second Africa tour takes place in the summer and covers new countries on the African continent," Subkh said.
He recalled that this year marks the 60th anniversary of the establishment of the African Union and May 25 marks Africa Day.
"We would like Ukraine to join these events at a high level. The work is ongoing, because preparations for visits require communication, sending official requests and obtaining approvals," the diplomat said.
According to him, the Ukraine-Africa conference is also being prepared, with the Ukrainian Foreign Ministry currently selecting its main topics and constantly communicating with the President's Office and concerned ministries on this issue.
"We communicate with research institutes, agricultural academies, our exporters and we see how many modern technologies Ukraine has, which no one in Africa knows about and to which it does not have access. Therefore, our goal is to build a bridge for the implementation of our technologies in Africa through such summits and visits," Subkh said.
He added that the Ukraine-Africa summit was to be held in Kyiv and the heads of state of the entire African continent would be invited to attend.
"We know that a Russia-Africa summit is planned for July, and we call on African countries not to attend it. In our opinion, it is immoral to be on the territory of the aggressor state at a time when the war against our country is ongoing. We would like African countries to boycott this event, at least on the part of their leaders, so as to demonstrate that Africa does not agree with what Russia is doing in Ukraine," Subkh said.
According to him, Ukraine has already received certain signals from some countries that they do not consider participating in this event in any way until Russia withdraws its troops and stops the war.
On October 3, 2022, Kuleba began his first Africa tour as Ukraine's foreign minister, and it was supposed to last until October 12. However, he interrupted the tour on October 10 due to Russia's massive missile attack on Ukrainian cities.