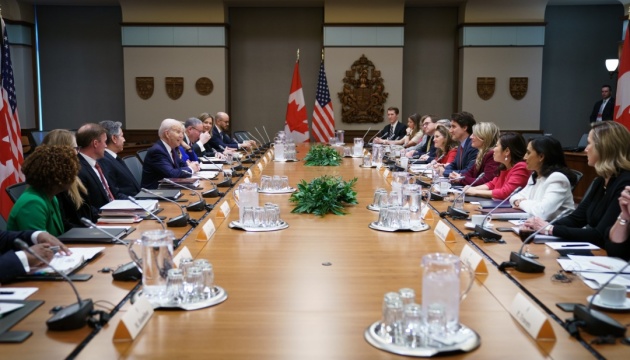 Unity in support of Ukraine not going to break - Biden
U.S. President Joe Biden has said that the United States, along with allies and partners, will not lose unity in support of Ukraine as it fights off Russian aggression.
He said this at a joint press conference with Canadian Prime Minister Justin Trudeau in Ottawa on Friday, according to an Ukrinform correspondent.
"As we head into the second year of Russia's brutal invasion, our unity is not going to break," Biden said.
He said the United States, together with allies and partners, was going to keep the pressure on Putin "through our historic sanctions and tariffs."
Biden added that support for Ukraine would continue in the future. "We're going to continue providing Ukraine with training, equipment, the humanitarian assistance it needs and to defend itself against Russian aggression," he said.
Biden arrived in Canada to discuss bilateral cooperation and responses to global challenges.
Photo: Justin Trudeau, Twitter