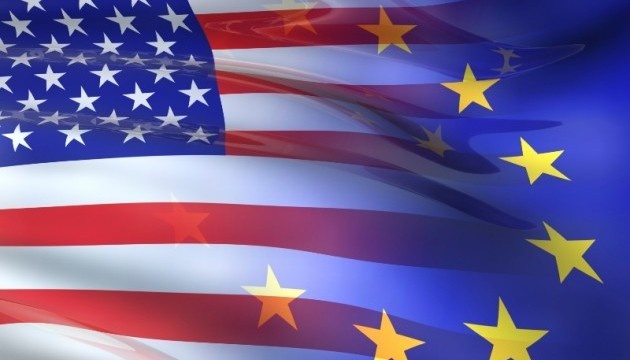 US, EU reaffirm intention to jointly support Ukraine
U.S. President Joe Biden and European Commission President Ursula von der Leyen in a joint statement following their meeting in Washington confirmed the readiness of the parties to support a partnership for sustainable economic development and stand united in solidarity with Ukraine in its fight against Russian aggression.
According to Ukrinform, the full text of the statement has been published on the website of the European Commission.
"Today, the United States and the European Union are taking new steps to deepen our economic relationship as we build the clean energy economies of the future and address shared economic and national security challenges," the document said.
A separate section of the statement entitled "Standing Together to End Russia's War Against Ukraine" reflects the parties' strong and united stand against Russia's illegal, unjustifiable, and unprovoked war against Ukraine.
"The United States and European Union are working to ensure that Ukraine has the security, economic, and humanitarian support it needs for as long as it takes. We have worked together to supply the Ukrainian Armed Forces with the military equipment and training it needs to defend itself from Russian aggression," the statement said.
The parties recalled that the U.S. and the EU, together with Ukraine, are co-chairing the Multi-agency Donor Coordination Platform, and, in line with its European path, are helping advance Ukraine's reform agenda, laying the foundation for sustainable growth and reconstruction, and ensuring assistance is delivered in a coherent, transparent, and accountable manner.
"We remain committed to providing and mobilizing international support including from the private sector for Ukraine's economic and financial stability. We support the International Monetary Fund delivering an ambitious program by end March 2023 to provide necessary budget support to Ukraine throughout and beyond 2023," the statement read.
It says the parties have taken decisive steps to exert economic and political influence on the aggressor country in order to force the Kremlin to stop its arbitrary war against Ukraine.
"We, along with a broad coalition of partners, have imposed swift and sweeping sanctions that are reducing Russia's revenue to fund its war and its military-industrial base. Putin thought that he would divide us, and yet we are more united than ever. We stand together in our unwavering support for Ukraine for as long as it takes," the document read.
Biden and von der Leyen recalled that one year ago, the United States and the European Commission launched a new partnership to rapidly reduce Europe's dependence on Russian fossil fuels and accelerate Europe's green transition. "This partnership has exceeded our goals, delivering more than double the U.S. liquefied natural gas supplies to Europe than our baseline pledge," they said.
"We note the significant European efforts to diversify their energy supplies and accelerate the energy transition, which have helped limit the impact of the global energy crisis in Europe. We will continue to work together to advance energy security and sustainability in Europe by diversifying sources, lowering energy consumption, and reducing Europe's dependence on fossil fuels. We will also continue our close coordination to support Ukraine's energy security through its further integration into Europe's energy markets. We will continue our cooperation for stable and balanced global markets and security of supply and step up the clean energy transition globally, including by efforts to reduce methane emissions in the energy sector," the statement said.
The parties said they had taken unprecedented, coordinated, and effective sanctions and other economic measures together to further degrade Russia's capacity to wage its illegal war and its military-industrial system.
"We are deepening our joint work to aggressively enforce our sanctions and export control measures and also to end and deter circumvention and backfill, including by expanded authorities to close down Russia's access to all inputs that can support its war machine. As part of this, we are taking new steps together to target additional third-country actors across the globe to disrupt support for Russia's war from any corner of the world where it is identified," the joint statement said.
European Commission President Ursula von der Leyen is visiting the United States to further deepen the transatlantic partnership and strengthen economic ties between the EU and the United States in the context of the economic crisis and threats to global energy and food security that were provoked by Russia's war of aggression against of Ukraine.